Case study
Microchip firm senses opportunity to bridge the technology gap
Newcastle University spin-out develops new manufacturing processes that can support early-stage R&D as well as suiting volume production.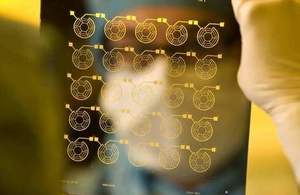 A spin-out from Newcastle University has developed new ways of manufacturing microchips that uniquely allow it to bridge the gap between early-stage production and volume markets in sensing technologies.
INEX Microtechnology Ltd had funding support totalling £1.67 million from Innovate UK for a 30-month project to develop 25 novel microfabrication processes and capabilities around microwave & power electronics devices, microsystems (MEMS) and compound semiconductors.
The wider aim was to strengthen the UK's supply chains for specialist manufacturing but it means INEX can now offer early-stage development expertise along with significant production capability.
Quick payback on investment
According to CEO Ian Macbeth, that propels the company into an entirely new market role where it can "bridge the innovation gap" in a way others cannot. He explained:
Customers are coming to us because they are frustrated by their inability to find manufacturing partners who are versatile enough to do developmental work and also to deliver early-stage volumes that they need to interest a volume manufacturer.
And the volume manufacturer will come to us because they cannot afford to disrupt normal business to look at all these new projects coming out of R&D.
If we hadn't had the 'fuel in the engine' – the support from Innovate UK – we would never have got the critical momentum to do this. And the payback is going to be very quick and very significant.
Bio-sensing applications
INEX became a stand-alone enterprise in May 2014, based on the university's extensive clean-room facility which served early-stage R&D as well as high-value, low-volume projects for commercial customers. There are no shareholders other than employees and the university.
Alongside the Innovate UK funding, INEX was launched on the back of a five-year project with Dstl investigating gallium nitride (GaN) substrate technology for applications in defence communications.
The MEMS project explored processes which involve exotic materials and 3D structures.
With use of non-silicon substrates for MEMS and sensors increasing proportionally in the last 10 years, INEX developed products using substrates including silicon, sapphire, silicon carbide, glass or even paper, for disposable bio-sensing applications.
Analytics for health
These are not so much aimed at mobile phones and mass market devices as for specialist industrial applications in biotech, bio-sensing and analytics for health.
INEX employs 18 people and has become profitable since spinning out of Newcastle University. During 2017, developmental work with a number of key customers will progress to production phase. Many of INEX's customers have had support from Innovate UK on their own projects, for example, PragmatIC. Ian added:
To deliver this much success, which was not really visible at the start of the project, is tremendous. It's genuinely exciting.
There's plenty of room for growth and we'll see the benefits of the funding ripple out in coming years. Following on from the innovation funding, we will bring in more commercial revenue this year and by 2018-19 we expect to ride a growth curve that will generate income to nurture similar value creation cycles.
Published 10 March 2017