A case study from the 2014 Human Rights and Democracy Report.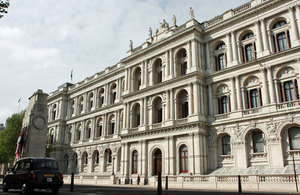 During 2014, 14,413 people were reported killed, 1,332 kidnapped, and a further 5,098 disappeared in Mexico, according to information from the Executive Secretariat of the Mexican National Public Security System. The Mexican National Institute of Statistics and Geography estimates that in 2013 impunity reached its highest recorded rate yet – with 93.8% of crimes either not reported to the authorities or not investigated, mostly due to fear of extortion, the long and difficult processes required, or lack of trust in the authorities.
Two high-profile cases gained significant international coverage. In Tlatlaya, State of Mexico, a confrontation between soldiers and suspected criminals on 30 June led to the death of 22 people. It later emerged that some of the individuals appeared to have been executed by military forces after being apprehended. Eight soldiers have since been arrested and seven have been charged. In Iguala, Guerrero State, on 26 September, six people were killed, and a further 43 students from the Ayotzinapa teacher college "disappeared", after they were seen being taken away by police. The Mayor of Iguala, his wife, and over 60 others have since been arrested, and the deaths of the 43 students have been confirmed. The case has generated widespread and sustained protests across the country.
The UK was party to the statement issued by EU member states in Mexico City, which expressed serious concern about these cases, and welcomed the statements made by Mexican federal authorities, promising that those responsible would be held to account. The UK government regularly discusses human rights matters with the Mexican government as part of our bilateral dialogue.
The Mexican government has announced a series of measures to strengthen the rule of law and address impunity, including the creation of a specific law on torture and enforced disappearances, strengthening procedures and protocols for investigations such cases, and the implementation of criminal justice reform. Mexican civil society is undertaking important work to help tackle human rights abuses and impunity, and the British Embassy in Mexico is supporting these efforts. In 2013-14, the Embassy provided funding for Ciudadanos en Apoyo a los Derechos Humanos (Citizens in Support of Human Rights) in its efforts to strengthen criminal prosecution and judicial processes in the state of Nuevo León, resulting in a strengthened legal framework for addressing enforced disappearances, and improved access to justice.
In 2015, the British Embassy will support the non-governmental organisation (NGO) Asistencia Legal por los Derechos Humanos (ASILEGAL) in its efforts to strengthen the capacity of judges, magistrates, public prosecutors, police and public defenders in Chiapas. This project will help ensure implementation of Mexico's wider Criminal Justice Reform Programme via capacity-building training.
Our efforts are intended to contribute to human rights improvements and help strengthen the justice system, as well as support civil society in Mexico.
Published 12 March 2015
Last updated 17 March 2015
+ show all updates
Added translation

First published.