Case study
MDGs in focus - MDG 3: Promote gender equality and empower women
Small business loans are empowering women and breathing life into Afghanistan economy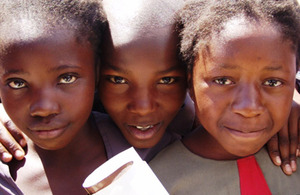 Small business loans are empowering women and breathing life into the Afghanistan economy
Maryam Hashami, 48, is proof of the entrepreneurial spirit which the people of Afghanistan are now demonstrating to the world.  Thanks to UKaid from DFID, a small business loan has enabled her to escape from poverty and build a successful business.
Maryam returned to Afghanistan after spending time as a refugee in Pakistan - and now runs a thriving tailoring business.
She started her business, with a loan of $1,000 (around £700) from The First MicroFinanceBank of Afghanistan, around five years ago.
At first she ran her business from home, but her success grew and she opened her shop three years ago.
She currently has six staff working for her, who receive training and guidance to help them excel and develop in their roles. Some of her previous staff members have gone on to open up their own businesses.
Maryam, a widow, and mother-of-five, said: "When I came from Pakistan I had some materials, but I had no money for a sewing machine.
"I didn't have any money - and now I own my own home and my own car.
"But I believe everyone should be able to do something for themselves, and needs to be able to solve problems for themselves."
A DFID-funded microfinance programme has helped more than 400,000 men and women build new businesses in Afghanistan.
Video: Women who have benefited from a DFID-funded microfinance scheme in Kabul, Afghanistan
Women account for 60% of those who have received $500 million in small business loans from the Microfinance Investment and Support Facility for Afghanistan (MISFA).
DFID has provided £40.5 million to MISFA over the past six years in a bid to create jobs and boost an economy starved by 30 years of conflict.
Unemployment in the country is estimated to be around 36% and in recent polls Afghans cited the economy and jobs as their primary concern.
MISFA was set up with the backing of the government of Afghanistan in 2003 to better channel money and technical help from international donors to microfinance projects at local level.
Microfinance in Afghanistan - the facts:
Businesses are typically set up by people with no formal business training, borrowing from $100 to $3,000
More than 60% of microfinance businesses are set up by women, up from almost no female-headed businesses under the Taliban 
Clients tend to be those on a low income, who do not have access to banks and loans
Many microfinance businesses are started at home. Typical businesses include tailoring, carpet-weaving, and bakeries.
The UK, through DFID, has provided over £40 million to Afghanistan's Microfinance Investment Support Agency (MISFA), since 2003, to help Afghan entrepreneurs.
Each microfinance business is estimated to sustain 1.5 jobs - though some sustain many more - in areas such as agriculture, candle-making and rug-weaving.
MISFA has provided over 1.5 million small loans so far.
The bigger picture on gender equality and empowering women
Getting women and girls full participation in social, economic and political life as well as improving reproductive health and rights will have an enormous impact on every Milllennium Development Goal (MDG).  If the achievments made on MDGs such as health and education are to be sustainable, progress for women and girls is needed on political participation, employment opportunities and protection from violence. 
It is no coincidence that the countries in which women are disproportionately poor and marginalised are those which are furthest from meeting the MDGs.
Women hold the key to development and investing in them will reap rewards. Scaling up interventions to improve maternal health, to reduce malnutrition in children, to protect them from malaria, to educate girls and to give them economic opportunities will empower a whole generation of women who will marry later, have fewer and healthier children, and send those children to school. Those women, and the children they bear, will be empowered to make an economic contribution: to become doctors, engineers and businessmen who will propel their countries towards sustainable economic growth. No longer will 50% of a country's talent and workforce be wasted.
That is why the UK goes to the 2010 MDG Summit putting women and girls at the forefront of its efforts.
Published 1 September 2010