MDG 8 - The GAVI Alliance saves children's lives through vaccines
The GAVI Alliance, a global effort to bring new vaccines to the developing world, brings together diverse partners, leverages huge levels of resources, and saves millions of lives.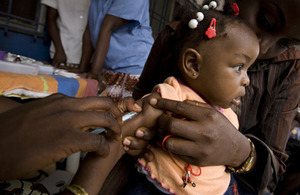 The GAVI Alliance, a global effort to bring new vaccines to the developing world, brings together diverse partners, leverages huge levels of resources, and saves millions of lives.
Since 2000, GAVI has helped immunise over 288 million children in 72 developing countries and saved over five million lives. This June, GAVI set a target of immunising a quarter of a billion children in the next 5 years and saving another 4 million children's lives. GAVI continues to work to drive down vaccine prices and has successfully helped reduce the cost of pentavalent vaccine (which protects against 5 killer diseases) by 30% over the past 4 years.
GAVI uses an innovative business model that not only finances the introduction of new vaccines in developing countries, but also reshapes the vaccine market, spurring the development of vaccines and expanding production. This, combined with the expertise of its members, makes this success sustainable in the long term and ensures it can be owned by the countries themselves. The GAVI Alliance addresses the lack of vaccines available to children in developing countries. One child dies every 20 seconds from diseases that are entirely preventable through vaccinations.
As a public-private partnership, GAVI combines the technical expertise of the development community with the business know-how of the private sector. GAVI has established an innovative business model. By pooling demand from developing countries for new vaccines and providing long-term, predictable financing to meet this demand, the Alliance's business model influences the market for vaccines. This helps to attract new vaccine manufacturers, increase healthy competition and, as a result, drive vaccine prices down. Working through GAVI, members of the Alliance have developed performance-based approaches to development aid; tested and proven innovative financing mechanisms; and introduced new technologies to boost immunisation coverage.
The GAVI model provides new solutions to six obstacles that have always stood in the way of ensuring life-saving vaccines (which would otherwise take many years to become available in the developing world) to reach children in the world's poorest countries:
Getting immunisation on the agenda in both donor and developing countries
Finding the type of large-scale funding needed to sustain long-term immunisation programs
Aligning immunisation programs with developing countries' national health plans and systems
Building health systems that guarantee new vaccines will be delivered to even the remotest villages
Making expensive new vaccines more affordable for the developing world
Laying the foundations that will allow governments to continue immunisation programs long after GAVI support ends.
Providing a single forum for each partner's unique perspectives has yielded a fertile ground for collaboration and innovation. Partners contribute to the Alliance through strategy and policy setting, advocacy, fundraising, vaccine development and procurement, country support and immunisation delivery.
In Nicaragua, 10-week-old Caleb Alexander Martinez was the first baby to be vaccinated with the new pneumococcal vaccine on December 12, 2010. Caleb's doctor, Dr. Sonia Gonzalez said:
"Today is a very important day for us. It is very important for mothers, it is very important for the Nicaraguan children, because we are putting into practice the promotion and protection of health in an effective way…our government has made many efforts in the commitment to restore health as a right. We know that prevention is the most important path. If our children have a healthy start, they can develop to their full potential and we will have a better society."
Key facts
Partners supporting GAVI are: developing and industrialised countries, developing and industrialised country pharmaceutical industries, World Bank, UNICEF, Bill & Melinda Gates Foundation, World Health Organisation, research and technical agencies, civil society and private philanthropists.
Immunisation coverage in GAVI-supported countries for the required three doses of the diphtheria-tetanus-pertussis vaccine (DTP3) has increased steadily since GAVI's inception, from 65% in 2000 to a historic high of 79% in 2010. This provides a solid platform for rolling out new life-saving vaccines to reach the largest possible number of children.
In addition to the existing portfolio of vaccines and support to health systems, GAVI now plans to roll out two new vaccines, pneumococcal and rotavirus, tackling the two biggest killers of children in the developing world, pneumonia and diarrhea. This will save a further 4 million lives by 2015. Every day the lives of 7,000 children are saved by vaccines.
For further information on the programme, go to www.gavialliance.org
Published 19 September 2011