Case study
Marine upholstery company helped to expand to Italy
Advice and networking help from UK Trade & Investment helped outdoor fabric specialists Marina Mill find a distributor in the Italian super-yacht market.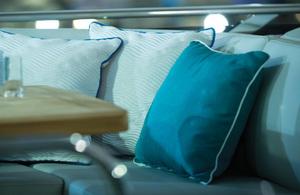 Ten years ago, Kent-based fabric design company Marina Mill saw a gap in the marine industry's exterior upholstery market. They developed a new range of luxury outdoor furnishing fabrics called EXTEX. Since their launch, the fabrics have been promoted and sold within the super-yacht industry. Marina Mill has good contacts within the industry and works with the UK's best known super-yacht designers. Around 30% of the company's business is in the UK, with most of the remainder being in Europe, especially the Netherlands and France.
Decision to expand
Having traded successfully, but on a small scale, in the south of France and the Netherlands since 2006, Marina Mill realised that it needed more overseas business to increase the size of its marine business further. The company approached UK Trade & Investment (UKTI) for help and advice in early 2011 after a Business Link contact recommended it.
The UKTI advisor advised Marina Mill to look at Italy, as around 45% of the world's super-yacht projects are located there. The company and advisor then worked together to discuss plans for Italy and the company's products. With a clear plan in mind, UKTI compiled 2 Overseas Market Introduction Service (OMIS) reports, which identified suitable regions to explore, as well as potential customers.
Kaya Joyce, Operations coordinator at Marina Mill said:
The best thing about the help from UKTI is that it opened doors for us, and we got a better response rate from companies, as UKTI knew who we needed to go straight to.
Expanding to Italy
UKTI suggested a visit to Italy in March 2012, and put together a full itinerary for Marina Mill's trip, including flights, local travel and meetings. The company met several potential distributors and customers during the 3 day visit, and soon after, decided to engage Magicotex, a textile distributor. The Bologna-based distributor sells fabrics to the super-yacht industry, as well as to the auto industry.
Kaya said:
Italy is our first pro-active overseas venture. Our business in France and the Netherlands came from us responding to interest, but it worked well and we wanted to replicate it in Italy. This is what UKTI helped us to do. The best thing about the help from UKTI is that it opened doors for us, and we got a better response rate from companies, as UKTI knew who we needed to go straight to. We also really appreciated the fact that UKTI organised all the logistical details of the trip.
Marina Mill's collaboration with Magicotex is going well and is an important part of a long term plan for both companies to explore Northern European markets. Marina Mill is also hoping to access Magicotex contacts in the automotive industry and they have helped Marina Mill develop a stronger business relationship with Montecarlo Yachts, a leading Italian shipyard. The shipyard used some of the EXTEX range in the yachts it exhibited at the 2012 Genoa Boat Show.
Looking to the future
The future for Marina Mill in Italy looks good. The company hopes to achieve a leading position in the Italian market, and is already promoting the EXTEX range strongly in the country's shipbuilding magazines. Over the next 2 years, Marina Mill plans to explore the growing super-yacht market in the US. The company is also looking at Turkey's growing ship building industry, and will have UKTI on hand to help.
Kaya said:
I can highly recommend UKTI. We're only a small business, but UKTI really cared and really helped us. The service we got was above and beyond anything we'd expected. I'd say to other businesses, regardless of size, to go to UKTI. Don't be daunted by exporting, because if you've got a knowledgeable guide, you can achieve a lot.
Help expanding your business
Doing business in another country can be a challenge, but UKTI is there to help you succeed. Find out about the export support services UKTI offer
If you are interested in expanding to Italy, you can find out more about doing business in Italy and how the government is promoting economic opportunities in Italy and the UK.
Published 26 April 2013