Case study
Mandlenkosi Maposa from Studio 12 at Leeds library
Studio 12 supports digital and social inclusion and creates employment opportunities.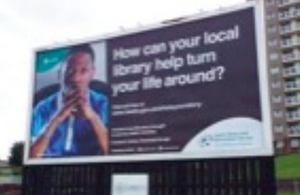 Contribution to corporate priorities
Studio 12 contributes to corporate priorities by:
supporting communities
tackling poverty
supporting digital inclusion
providing employment opportunities
Description of the work
Leeds Central Library has an audio-visual media production suite called Studio12. It provides free access to industry-standard hardware and software with training and support from library staff. Studio12 is open to anyone aged 16 – 30 with priority given to those not in education, employment or training.
Mandlenkosi (Ma) Maposa took part in the Writing Britain project. Studio12 participants from disadvantaged backgrounds wrote about the problems of their past, the potential of their present and the possibility of their future. After months of workshops with fifteen young adults, three individuals were chosen to put their words to film. To achieve this, they worked with Left Eye Blind, a film production company based in Leeds.
Outcomes achieved
Speaking about his experience of working on the Writing Britain project, Ma Maposa said:
My aim is to empower young people to get into music like me. Ten years ago, I never would have imagined that I'd be where I am now. No dream is too big, it's just about finding the best way to achieve that dream – for me, this was down to the help of Leeds Libraries and Studio12. They changed my life. Finding somewhere that will channel my energy into something positive… Finding someone that will support and nurture my commitment into something productive… That's what I got from Studio12. To be honest, it took me from a dark place in my life and it brought light, and it's put me in a place where I could never imagine.
The Writing Leeds films premiered on the big screen at the Everyman Cinema in the new Trinity Leeds shopping centre. On the night, the filmmakers took part in a special question and answer session with an audience of invited guests, media and press. The films have gone to media outlets, broadcast channels and for distribution to festivals.
With the help of Leeds Libraries, Ma has also created BigOnRoadTV, a highly successful YouTube channel that promotes local music talent, (it received 600,000 views in its first year), and BigOnRoad, his own media production company. He worked with Leeds University to run a competition that aimed to get young people into the music industry. The winner received a record deal with BigOnRoad Records. Earlier this year, Ma created an app called Cardnet which allows professionals to carry and share their business cards digitally. He grew this and recently sold it on. Ma is currently going into pre-production for a film that he has written and produced himself.
Accomplishments / lessons learnt
Leeds Library and Information Service launched a new marketing campaign in summer 2015. The campaign is called "What's Your Story" and features members of the public who have been helped by Leeds Libraries. Ma was one of our first 'library ambassadors' and his story featured in the campaign launch and associated publicity.
The campaign was heavily promoted through social media, raising the profile of Ma and Leeds library service locally and nationally. For example, they had re-tweets and positive interactions from:
Script Yorkshire with a re-tweet to a very relevant target audience, especially important when thinking about Ma's future plans
Ben Sanderson, Head of Press and Communications at The British Library, a highly influential interaction from a key influencer demonstrating the effectiveness of the campaign and expansion of the reach nationally
Gordon Hunt, Chairman of the Scottish Library and Information Council, a key influencer in the library industry who recognised the success of the campaign
Future plans
Leeds libraries are already working on another Writing Britain programme. They will be working with more young writers and filmmakers to turn their poetry and prose into spoken word pieces and high-quality films.
Ma regularly comes back to Leeds Central Library to share his experiences, deliver workshops and act as a mentor to some of the other students in Studio12.
Additional resources
Ma and the other Writing Britain filmmakers talk about their experiences in more detail in this film Writing Britain documentary
Ma's film is available to view on the BBC Three website
What's Your Story marketing campaign launched in the Yorkshire Evening Post with quote from Ma
Published 16 December 2015