Case study
Make a Difference (MaD)
As it says on the packet, a CIC making a difference to youth in Milton Keynes through an enterprising, multi-service hub.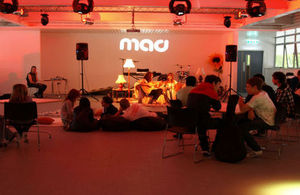 Since being founded in 2005 Milton Keynes CIC Make a Difference (MaD) has become something of a multi-service hub for young people.
Denise Rushton, who founded the organisation, says everything it does aims to inspire young people to make a difference to their lives and the lives of others by offering a range of positive activities and volunteering opportunities.
MaD has worked with more than 3,000 young people since it was set up. "What makes MaD special is seeing young volunteers grow over time. Many of those volunteers are now paid members of staff," says Rushton.
One of MaD's biggest projects to date has been acquiring and developing the former bus station in which they are based. The Buszy, as it is now known, has been regenerated by MaD to create an inclusive, supportive and encouraging environment for local young people.
It is now the city's most popular youth and community hub, housing the Buszy Retro Shop, a mix of event and exhibition spaces, and the neighbouring Buszy Skate Plaza. The venue is host to a wide range of activities and events designed to engage the wider community through activities including gigs, performances, sports tournaments and skate boarding events.
MaD is funded through a mix of youth service delivery contracts they have won, as well as trading activities carried out at the Buszy. This includes revenue generated from club nights, event space hire, and the Buszy Retro Shop. All income generated from the business is re-invested back into the services for the community.
Denise set up MaD as a CIC limited by guarantee. "As a trustee of a charity, I didn't feel setting it up as a charity was the right route for MaD," she says. "I wanted the flexibility to raise the funds how we wanted without conflicting with our charitable objectives."
MaD does have a Board of Directors made up of advisors from the private, commercial/ corporate and third sectors. It also encourages all levels of stakeholder involvement. "It is important for the young people, staff, volunteers, funders and other local representatives to take part in the development of the services we provide and in making decisions," adds Rushton.
Denise is hoping to add to the £1 million in funding MaD has raised by continuing to win new service delivery contracts. Other plans include developing the Buszy further by setting up a community cinema and Fairtrade café. "We are also keen to utilise the outside space surrounding the Buszy. It used to be the bus yard, but we would like to turn it into a car park. The train station is located directly opposite so this will be a great way of generating a further source of sustainable income for the organisation," says Rushton.
| | |
| --- | --- |
| Name | Make a Difference (MaD) |
| Location | Milton Keynes |
| Company structure | CIC limited by guarantee |
| Founded | 2005 |
| Community interest statement | A CIC which inspires young people to make a difference to their lives and the lives of others by offering a range of positive activities and volunteering opportunities. |
Find out more about Make a Difference (MaD)
Published 12 November 2013