Case study
Mahjabeen's Story
From unemployed to breadwinner – female entrepreneur given the opportunity to build her business and provide for her children.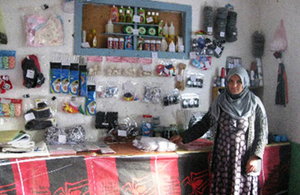 Afghanistan can be a difficult place for women, particularly if they are widows with children. But women are now getting the chance to make their businesses a reality thanks to the UK supported Afghanistan Rural Enterprise Development Programme.
Mahjabeen is 41 years old. She's a widow and has never had a formal education. She lost her husband 15 years ago. She lives in a rural area in Herat province with her son and daughter.
Mahjabeen always wanted to provide her children with a good life and fulfil their needs by putting her tailoring skills into practice. She started a small tailoring enterprise inside her house, which meant she could provide for her family of three; earning 2,500 Afs per month.
Mahjabeen found out about the Afghanistan Rural Enterprise Development Program (AREDP) in 2013 and secured a loan of 20,000 Afs to start a business and support her family.
Mahjabeen used the money to open a small general store, selling day-to-day items for household needs. It was a great initiative because people previously had to travel long distances to purchase these items from other villages.
With AREDP's support, Mahjabeen's shop turned out to be very successful. Now she has many customers, steady sales and she earns around 10,000 Afs each month.
Besides feeding her family, she has managed to help her daughter get into university. Commenting on how her life has changed, Mahjabeen said:
AREDP helped me a lot and brought hope in my life. I earn enough to support my family and now I am very happy.
AREDP is funded through the Afghanistan Reconstruction Trust Fund (ARTF) to which the UK is a key donor.
Published 6 September 2015