Case study
Louise from York: "I'd definitely recommend Help to Buy"
After Louise Highton got a permanent job in York, it made sense to stop renting and instead look at buying a house.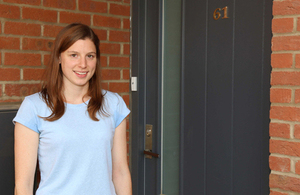 The development that caught Louise's eye was the Derwenthorpe development from David Wilson Homes.
"It's in a really good location and for the amount of house that you get, the prices were really good. We'd always liked the idea of buying a new build so it ticked all the boxes!"
With Louise's heart set on one of the new build homes, the Help to Buy scheme was perfect with only a 5% deposit and 75% mortgage required.
"We first heard about Help to Buy on the news and worked out it suited us perfectly. When we met the sales advisers here at the site, they put us in touch with all the relevant people. After we'd had it explained, they put us in touch with a mortgage adviser and he did the rest."
"We were a little dubious at first and had to work out whether it made sense in the long run, however even 80% of this home is more than we could have afforded if we hadn't used the scheme."
Louise moved into her home earlier this year and recommends that people in a similar position look into Help to Buy.
"We finally moved in May this year and luckily the move was pretty stress free. We had a few problems putting up curtains on the first day but once it was just moving boxes, everything was fine!"
"I'd definitely recommend Help to Buy. You can get a much bigger house for your money with such a small deposit!"
There's more help available from the government
Help to Buy is just one of many government schemes that offer support to help you and your family. Here are a few more examples of schemes you may be interested in.
Other useful services:
Published 24 November 2014
Last updated 25 November 2014
+ show all updates
Video added
First published.