Case study
London School of Training secures new clients in India
UK Trade & Investment (UKTI) helped the London School of Training (LST) make beneficial relationships to get new business in India.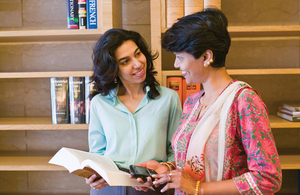 LST offers training in soft skills such as leadership, communication and confidence, to complement academic studies provided by educational institutions. The company has a particular focus on India, and in August 2012 commissioned an Overseas Market Introduction Service (OMIS) report, asking UKTI to identify management colleges there that might be interested in its programmes.
"India is planning to massively increase the number of people going to university, and is set to become something of an education superpower," says Rajdeep Choudhury, Head of Client Services at LST.
Visiting India as part of a networking event on education in Delhi, LST met with four institutions in Nagpur that UKTI had identified for it. One of them, Ramdeobaba College of Engineering and Management, has since signed a Memorandum of Understanding (MOU) with the company.
Whilst in India, LST addressed a large number of local educational institutions at a UKTI networking event, following which the Dr S Radhakrishnan College of Business Management (DSRCBM) also signed an MOU. In July 2013, the company delivered a training programme for DSRCBM's staff in subjects such as building rapport with students and teaching techniques.
Such was DSRCBM's respect for London School of Training's programme that the college arranged for press, television and radio coverage, which resulted in more enquiries
"I have been delighted by UKTI's support," says Rajdeep Choudhury, Head of Client Services at LST. "They connected me with exactly the type of institution we wanted to target, and created an environment where we could promote LST effectively to the maximum number of people."
Published 17 July 2014