StudentshIP case study: Unzip Knowledge of Business Value
Durham University's Unzip Knowledge of Business Value project raised awareness of IP amongst students through inspirational teaching material.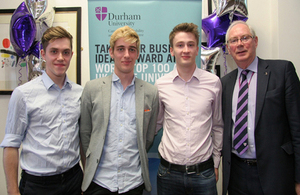 Objective
The project aimed to raise awareness of IP issues amongst the whole Durham student body.

Our goal was to produce attractive, inspirational teaching material. This was disseminated to the University's students via Entrepreneurs Durham and other social media.
The research
To accomplish this we distilled the key topics and messages to go into a 4 minute video. We used student focus groups from the Level 3 Biology Enterprise module and at Entrepreneurs Durham's "KickStart Weekend".
Focus groups, each consisting of about 115 students, were held. One was drawn from a wide range of disciplines across Arts & Humanities, Social Science & Health, and Science. An IP lawyer provided professional advice and helped with the focus groups, the creation of the text, graphics and the filming.
The final product
The video, made to a high standard by Dependable Productions, is now available on the University's YouTube channel. In the video, actress Yemisi Oyinloye describes the key rights of authors and inventors with just enough detail for viewers to want to know more. Viewers will not become experts by watching the video but it gives a brief introduction to trademarks, copyright, patents and design rights.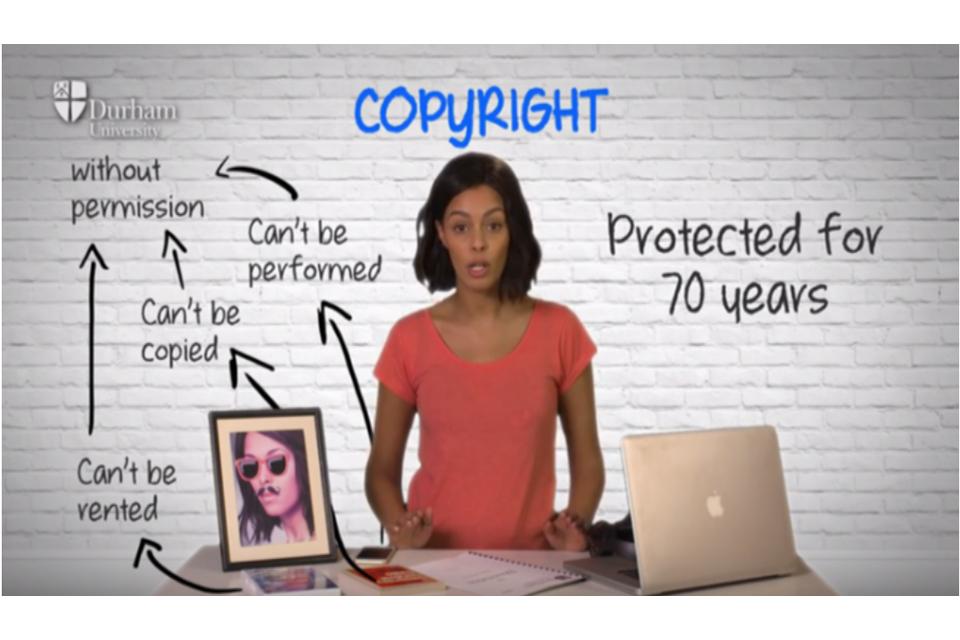 The aim is to leave residual memories so that, when meeting a new professional situation, staff, students, and especially graduates will think
"Is there an Intellectual Property angle here?"
Dissemination
The video was promoted via the University's web pages, Entrepreneurs Durham Facebook page, Durham Diary blog-site and Durham staff magazine, Dialogue. It will also be used within the curriculum in modules such as the Physics Team Project, Biology Enterprise and Earth Sciences in Society.
The project was presented at an Enterprise Educators UK one-day conference at London South Bank University in February 2016. In response, colleagues at other universities have stated that they will use the video in their teaching materials.
What next?
We now need to refresh the messages for successive groups of students each year. We wish to give a substantive prize to the student start-up company that shows best awareness of IP issues in the University's Blueprint Challenge competition for new venture creation. We believe that this will continue to raise awareness of IP issues among the Durham student population.
Take a look yourself


Prof Brian Tanner, Dean for University Enterprise, Durham University said:
Through this project, we have produced a short video, What has intellectual property got to do with you?, explaining the importance of IP to everybody. I encourage everyone to view it at .
https://www.youtube.com/watch?v=EQsZf2G4Sdc . It is fun
Dr Andrew Jackson, Director of Research and Innovation Services, Durham University said:
Everybody should watch that.
Marina Pickles, Student and Graduate Enterprise Manager, Loughborough University said:
Don't worry. Durham's branding is not obtrusive at all…it is such a great video. I'm really looking forward to using it in my IP lecture.
Published 6 December 2016