Case study
London Libraries Consortium: partnership working
Stronger co-ordination and partnership working with the London Libraries Consortium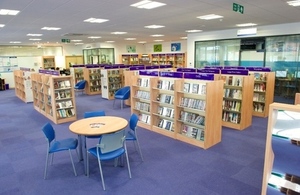 Context
The London Libraries Consortium (LLC) is a business partnership of 18 London public library services committed to delivering excellence and providing value for money. This is is done by sharing resources in IT, stock management, staff development, training and using shared contract opportunities.
The LLC's vision is to be "the leading player in the success of the nation's libraries; a powerhouse for new ideas for what libraries can deliver and the way that they work; and the most efficient and cost-effective provider of shared libraries support services."
"LLC has 4 strategic aims:
Our libraries will be cheaper to run. We will collaborate to achieve more savings for our members.
We will have developed creative new library models. We will pool our efforts and experience to create new ideas for getting the most from our libraries.
We will have delivered even better customer service. We will work together to develop further our staff's skills and modernise our service offer.
We will have created a deeper, broader partnership. We will have made LLC even stronger and more successful"
The size of the London Libraries Consortium means its members have greater purchasing power and economies of scale. With 4.5 million people living in participating councils the LLC serves a population larger than Wales.
Background
LLC began in 2003 as a partnership between the London boroughs of Havering and Redbridge to share procurement of their library management system (LMS) and stock. Since then the consortium has grown at a steady rate as other councils joined to take advantage of the benefits, such as sharing tendering costs and it now covers half of the London boroughs, with 2 new libraries services - Sutton and Luton - joining in 2016.
Description of work
LLC councils share a LMS and also combine to get best value on a wide variety of products and services, ranging from stock and smartphone apps to transport.
Members enjoy the benefits of efficient shared backroom services without losing their local identity or autonomy.
Governance
The LLC's governance has evolved to accommodate the changing nature of the consortium as it has grown. Its Strategy Group focuses on the long-term development of the service identifying ideas for shared services, IT service improvements, and areas for collaboration. At board level, library heads of service meet every 6 weeks to set direction and ratify the Strategy Group's recommendations. In addition there are cross service groups comprising staff at all levels; some are task and finish while others, for example the stock group, are more permanent. The consortium has also used consultancy services (Red Quadrant and Activist) to support the board in future planning.
LLC councils vary in size, makeup and political control. The LLC can accommodate this, delivering backroom efficiencies while respecting local preferences. Rigid uniformity could have acted as a barrier to the LLC's growth.
Advantages
The complexity of running a multi-authority consortium is balanced by several advantages.
Wide pool of staff with different skills
The number of participating authorities means there's a pool of staff with a wide range of skills. This is particularly valuable given the reduction in specialist posts over time.
The LLC shares expertise across boundaries on special projects, commercial tenders and on developing and leading new projects. For example the LLC e-book offer was developed by a few expert members of staff for the benefit of the whole consortium. The flexibility of the LLC means that projects like these are possible without generally needing to create permanent specialist posts or negotiating inter-borough service level agreements.
Collaborative working
Small cross-council teams come together to work on behalf of the whole consortium. Collaborative working brings new skills into the boroughs and has created opportunities for staff to be involved in new projects such as web development and standardisation reaching beyond individual administrative boundaries.
Benchmarking
The shared LMS means comparative data is available to all members. This drives up standards, with all library services learning formally or informally from best practice.
Pilots
New services and products and new ways of working can be piloted in a small number of boroughs before being adopted by the LLC as a whole. For example after reengineering backroom services and using supplier selection, Electronic Data Interchange orders and a full payments interface the cost of putting a book on a shelf in Havering was reduced from £5.46 to 62p. This example of good practice – and practical experience – was made available and adopted by other LLC members allowing all partners to achieve savings. Using LLC to streamline backroom services has given member authorities the ability to release staff from backroom roles into customer facing ones. For example Tower Hamlets were able to transfer its 10 Full Time Equivalent staff from backroom bibliographic services to customer-facing roles. This didn't lead to any cashable savings but enabled them to have as standard weekly opening hours of 71 hours per library.
Customer access to shared catalogue
The greatest user benefit of the LLC is access to a shared catalogue and the ability to borrow any of the consortium's 5.7 million items, including e-books, via one library card. Each year over 200,000 people borrow stock held by another borough. This has improved customer satisfaction. The single card means that an LLC customer can also use all the services at 150 libraries across London – a particular benefit when many Londoners live in one borough and work or study in another.
Future plans
The LLC has worked with Axiell as its LMS supplier since 2003 and Axiell has supported the growth of the consortium. It currently uses Axiell's multi-authority software, designed so partners can share a single LMS and still retain local control.
At the end of 2015 the LLC decided to re-tender for a technology partner from April 2018. The LLC wants to procure a new library services platform (LSP) that:
is innovative and recognised as being radically different to current LMS in the marketplace
meets the needs of a modern library service and its users
makes the most of the potential of current and future technology developments
is intuitive and customer friendly
is robust and reliable in terms of its functionality
is "future proofed" as far as possible
is affordable, does not increase consortium member costs and delivers savings on current spend if possible can be scaled up for new members anywhere in the country
Tendering for a traditional LMS would be the conventional – and easier – option. However the consortium is looking for transformational change and sees a new LSP as the catalyst to achieve this. LLC is keen to work with other library services that share this vision.
Published 30 November 2016