Case study
London borough councils save 17% on postal services
A group of London borough councils have worked together with the Crown Commercial Service to make savings on their postal services and are on track to save £1 million.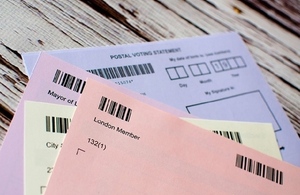 Background
Local councils across the UK still rely heavily on postal services to deliver vital information to residents, despite a growing focus on digital services. In fact, councils are finding that far from being outdated, mail can complement their digital by default strategies and be a cost-effective way to connect with hard to reach groups.
These factors mean postal services continue to be an important area of expenditure for London's borough councils.
The customer requirement
A few years ago a group of London councils, led by the London Borough of Camden, decided to join forces and look for a supplier who could meet all their postal requirements and ensure that they were getting the best possible value for money.
Competitive pricing was essential but the councils also wanted a supplier who would provide:
a high quality service on a consistent and reliable basis
the flexibility and scale to be able to handle variations in volumes
a ranges of services to meet the requirements of different mailing options for speed, economy, visibility and security
support and advice to help each council improve their efficiency and take advantage of new innovations
confidence that they would operate in way that met social value criteria and show that they were committed to developing their role in the community.
The solution
To ensure compliance with procurement regulations the group chose to run a further competition under the Crown Commercial Service Postal Services agreement.
Royal Mail was appointed to supply the postal collection and delivery services and each individual council signed up to the agreed terms and conditions to take advantage of the value for money services.
As part of the service Royal Mail has provided account management and technical field service support to ensure the councils are accessing the most appropriate and cost efficient services.
Regular reports are also supplied to help the councils understand what they are spending and saving on postal services. Quarterly review meetings are also used to review future strategies for mailing activity, discuss developments within the market, and opportunities for innovation.
The results
A cost efficiency saving of £750,000 was shared by the participating councils in 2014/15, and with more councils now taking part it is expected that the savings will be in excess of £1 million in 2015/16.
Get involved
To find out more about how your organisation can making savings on your postal services:
Visit the Postal Goods and Services agreement (RM1063) web page
Email the team at postal.services@crowncommercial.gov.uk
Call us on 0345 410 2222.
Published 14 July 2016