Case study
LibraryPlus: Northamptonshire Library and Information service
Libraries contributing to the health and wellbeing of its community.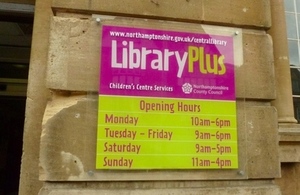 Contribution to corporate priorities
Northamptonshire Library and Information Service is part of the Customers, Culture and Place Division within the Public Health and Wellbeing Directorate of the council. The library service has a key role as an enabler for the council strategy, contributing to delivering the key themes around wellbeing and citizenship.
Description of the work
LibraryPlus are state of the art community hubs which provide Northamptonshire residents with the opportunity to connect, be active, take notice, keep learning and give in order to improve their wellbeing.
Increasing the wellbeing of your communities
The library service contributes to the council's key priorities. For wellbeing, these are that individuals and communities should be able to be safe, healthy, prosperous and to have a sense of place. They:
provide children's services in libraries as part of the children's centre offer
support job seekers and business start ups
record the local history of Northamptonshire
support people with particular needs such as those with dementia and their families
provide space for local groups
provide services in prisons and in a mental health hospital and offer resources to support health professionals in the county
provide some services as part of the Macmillan Cancer Support offer in Northamptonshire
Helping you to take charge of your life
Libraries provide plenty of opportunities for people to get involved in their local community, with volunteering opportunities co-ordinated through their Get Involved hub, which offers a range of volunteer choices, including some in the library. We also provide the chance to find things out for yourself and to access council and community services and to gain digital and other skills, including those that support you if you are developing a business idea.
Outcomes achieved
199 new businesses have started up as as a result of Northamptonshire's Enterprise Hubs and these businesses have created at least 254 known jobs.
During the 2014/15 financial year, there were 1056 volunteers in Northamptonshire libraries.
Lessons learnt
These services are provided across the county through 36 libraries and two mobile libraries. The budget in 2015/16 is approximately £4.6 million, of which the service must raise £806,000. They also raise grants for specific projects and pieces of work and operate some services on a traded basis.
Future Plans
Libraries will move into a Wellbeing Community Interest Company (CIC) which is majority owned by NCC (51 per cent) and part owned by the NHS (Northamptonshire Health Foundation Trust) and the University of Northampton. The Wellbeing CIC will operate as part of Northamptonshire County Council Plc.
Additional resources
Wellbeing Community Interest Company CIC (Case Study)
Published 16 December 2015