Case study
International Women's Day - Dunya Begum's dairy business
With support from the UK, Afghanaid has been helping Afghan women to earn their own living.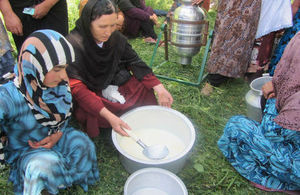 This year, the theme of International Women's Day is women's economic empowerment. Afghanaid has been helping women like Dunya Begum to stand on their own two feet.
Enabling women to earn a living is increasingly being understood as a tool for greater social and political inclusion. With funding from the UK, Afghanaid has been helping to promote women's participation in the private sector. Their project has established women's groups in sectors such as home gardening, animal husbandry, tailoring, bee keeping, food production and dairy processing.
Dunya Begum is one of the women who was selected for this project. She tells her story:
In the beginning I didn't know anything about dairy processing. After this project started, we learnt a lot about hygienic processing and I have received a lot of training.
Now I am always selling in the bazaar, butter, cheese, curd, yogurt and milk. Before we had the machinery but it was local and not hygienic. Now, Afghanaid has distributed some hygienic machinery and we can use this to make the cheese. Sometimes my family ate and we became sick, but after Afghanaid came to our village I know about packing and keeping everything clean.
I have 7 sons and 3 daughters, all of them are in school. They need shoes, books, pens, clothes… Because I have an income from the products I am selling I can provide this for them: I have money for my children, and they can go to university. Now we have learnt the value of education and we want our children to learn.
It is difficult as a woman because if we want to go to the bazaar we have a lot of problems and we need money for the transportation. But I like business and I know about business. I hope to have one shop. For the future, I don't think just about myself, I think about my village. My village has a lot of milk. I want to prepare it and arrange all of the milk and keep it in my freezer - then I will take all of this milk and dairy and other products with a motorbike and I will go to the bazaar and sell it.
Published 30 April 2015