Case study
Interface Polymers: spin-out set to transform plastics recycling
A business set up with Innovate UK support is poised to revolutionise recycling of plastics.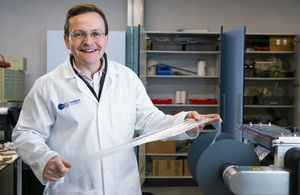 A business set up less than 3 years ago with the help of a start-up programme for university researchers is poised to transform a wide range of plastic products with its technology.
Warwick University spin-out Interface Polymers' has developed Polarfin®, a technology that modifies the surface of commonly used plastics so that mixed plastic waste to be recycled into useful products. It works by allowing adhesion between otherwise incompatible materials and has applications in packaging, crop protection and construction.
The technology was developed at the University of Warwick by the company's founders, Dr Christopher Kay and Professor Peter Scott. Christopher, having just completed a PhD based on the research, applied to Innovate UK's innovation to commercialisation (ICURe) scheme with the aim of exploring its commercial viability.
The ICURe programme helps university research teams with commercially viable ideas to validate them in the marketplace. It is run by SETsquared Partnership and Innovate UK and funded by the Department for Business, Energy and Industrial Strategy.
Ideas backed by intense worldwide research
The scheme involved a 2-day intensive bootcamp on how to develop commercial propositions followed by a 3-month industry contact programme that enabled Christopher to talk to more than 100 potential customers and/or collaborators.
Christopher said:
The iCure scheme stood out because of its simplicity. It appealed to me because it was short and I could throw myself into it energetically and come out ready to start a business.
There was no limit to the travelling I did in those 3 months. I went all over the world, hunting down the companies and individuals that might be interested in our technology.
At that time, we didn't have a lot of data about the application of the technology, we only knew how to make it on a very small scale in the university labs.
I then had to produce a report and make a pitch to Innovate UK for further funding to get the business going.
Business plan forecasts £100 million turnover
Christopher's business plan forecast a turnover of £100 million within 8 years. His pitch was successful and he was able to form a spin-out company in 2016.
The funding helped to scale up production of Polarfin® additives from a few grams to tens of kilograms and allowed the company to start supplying samples to customers.
Christopher teamed up with experienced business people who helped him to develop the business plan and establish the company.
The team included interim chief executive Phil Smith, a start-up veteran who had been working with Warwick Ventures, market expert Simon Waddington, who has over 25 years' experience in the plastics sector, and chairman Dominique Fournier, who has 35 years' experience in the chemical industry, including time as chief executive of a large polymer additives business.
Interface Polymers has attracted £4 million in private investment in the last 2 years including £1.5 million from private capital investment group 24Haymarket.
It has also won more funding from Innovate UK to support development of anti-fogging coverings for crop protection and new solutions for the recycling of packaging.
Getting into first gear was key step
Christopher added:
Next year, we will be working closely with customers to prove the technology across 3-4 applications in readiness for a multi-tonne production campaign.
All our target markets are substantial. Each is big enough to drive the growth of the business, once we have the right product in the right hands, delivered in the right way at the right cost.
The company currently has 8 employees and plans to grow to 20 in the next two years.
There are many challenges ahead but looking back, I think getting into first gear was the key step. With Phil and Simon's help, I was able to get the business moving, with Innovate UK's support, and present a compelling pitch to our investors. We had the determination and the drive to do it, but it would have been much harder without that support.
Published 21 January 2019