Case study
Intellectual Property: Ceres Power
Ceres Power is a UK-based alternative energy company that develops fuel cell technology for the residential sector.
This case study was withdrawn on
Case study no longer relevant.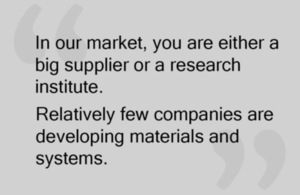 Brian Steele, Professor at Imperial College London, has worked on fuel cell technology throughout his career. He came up with the idea of using a ceramic, Ceryiagadalin Oxide, electrolyte in a fuel cell to allow energy to be generated at lower temperatures and without using hydrogen or precious metals.
The Intellectual Property (IP)
After coming up with his electrolyte, Steele filed a patent setting out a complete system for injecting the fuel and air, extracting the power and managing the heat exchange. His next step was to call in three colleagues from Imperial College Business School, including Bruce Girvan who is now Director of Innovation at Ceres Power, to prepare a business plan.
They quickly realised that they would need a lot of investment to launch the fuel cell and properly safeguarded IP would be essential if they were to secure it. The patent was transferred from Imperial College to a new company, Ceres, and a prospectus launched for £4.25 million in funding. Bruce Girvan said:
The goal was to turn our innovation into a tangible output. Yes, we could have licensed our IP, but manufacturing know-how gives your firm more value.

When dealing with other firms, we always ring-fence our IP very clearly.

In a drawing of a boiler on the wall, you can draw a line and say whether or not we own a part. Before we start discussions, we always have our current IP strategy and a technology road map. We avoid joint ownership at all costs.
Ceres and their suppliers also operate under non-disclosure agreements. Bruce said:
As a partner, you might want to get cracking, but we always prefer to have a hard, upfront discussion about IP before we start work together.
The results
So far, Ceres has built up a portfolio of 40 patents, as well as trade marks on its name in all the world's key markets. Early on, Bruce was keen to put its IP on the balance sheet. Now, he exercises timing skills when an innovation is about to become commercial.
Because the Ceres technology has yet to be launched and because software patents can be hard to protect, at present it is protected under trade secrets law. Copying so far has been limited. Bruce said:
In our market, you are either a big supplier or a research institute. Relatively few companies are developing materials and systems.

Because we wanted to be a global plc from the start, we see ourselves having lots of operating companies in all these different markets, so we have set up our IP as one separate entity with specific assets. We want to make sure any decisions are taken centrally across the whole group.
Lessons learned
Ceres learned several lessons about protecting their IP. It was important for them to be crystal clear right from the start about how their IP was going to work commercially and to ring-fence their IP before they started working in partnerships. Securing funding from business angels was essential for Ceres, and Bruce thinks that, for a long-term IP strategy, it is better to rely on business angels for initial funding and use venture capitalists later.
Published 3 June 2014