Inlecom: helping European businesses to work more efficiently
Working on EU-funded projects has helped a UK research and innovation business to become a leader in transport and logistics solutions.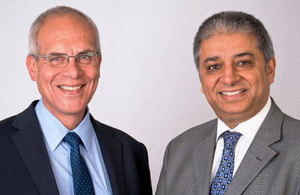 Transport and logistics research and innovation business Inlecom Systems has grown into a leader in its field after taking part in more than a dozen European projects.
Since 2008, Inlecom has partnered with leading European authorities and businesses on 13 EU-funded projects in the fields of freight, shipping, travel, and green and secure supply chains.
Its expertise in digital solutions to make transport and delivery networks more efficient and improve the way businesses fulfil their reporting obligations has seen it become one of the most trusted in its field.
It is now leading a new project funded under the EU Horizon 2020 programme, SELIS (Shared European Logistics Intelligent Information Space).
Inlecom leads 38 partners in project
SELIS brings together 38 European logistics organisations with the outcomes of more than 40 previous innovation projects to build a proof of concept common communication and navigation platform for European logistics.
The aim is to achieve a 30% reduction in energy consumption and greenhouse gases.
Dr Takis Katsoulakos, Inlecom managing director, said:
The main aim of SELIS is that every logistics provider and every supply chain can have access to an information sharing space using cloud technology. It would eliminate problems people have of exchanging information and finding the optimum way of transporting things.
Organisations in the SELIS consortium include IBM, DHL, Port of Rotterdam, DFDS and Avanti.
Business has grown into trusted leader
Working on European projects has helped Inlecom to grow to employ 20 people and have a network of around 60 part-time consultants. It is now one of the biggest in its field.
Yash Chadha, director for EU projects and business development, said:
Our core business has been research and doing work with the European Commission.
We started small, we've grown. We've had the opportunity over the years to sit around the table with some top academics and some large corporations, working in the areas that interest us, discussing and delivering leading technology ideas and solutions.
The SELIS project consists of 38 partners from 14 different countries. That's quite a feat for a small British SME to be leading it.
Inlecom has developed a number of software applications that help shipping and freight businesses to work more efficiently and is putting more resources into marketing these to customers.
Its vision is that by completion of the SELIS project in 2019 everyone is using a SELIS Community Node to manage their transport and logistics.
Published 16 December 2016