Case study
Increased Income for Afghan Farm Owners
AREDP helps small and medium sized businesses boost income and employment opportunities in rural areas.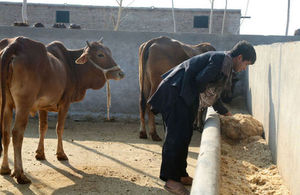 Afghanistan Rural Enterprise Development Program (AREDP) is providing farmers with training and greater support. As a result, their farms are more productive businesses and they can create job for others. Read Abdul Hamid's (one of the beneficiaries) story below:
Abdul Hamid (42) is from Nangarhar province in eastern Afghanistan. He has been working in animal husbandry for over a decade. Abdul Hamid previously had his own poultry business, but had little understanding of modern animal husbandry and had to close it down. He explains:
Because of financial losses, my poultry business was shut down. I lost more than 900,000 Afs (almost $16,000).
In January 2014, with support from the Afghanistan Rural Enterprise Development Program (AREDP) which is implemented by the Afghan Ministry of Rural Rehabilitation and Development (MRRD), Abdul Hamid visited farms in India and received training in animal husbandry.
Abdul Hamid says:
In India I saw modern farms and realised that Afghanistan is at least 20 years behind in cattle farming and poultry.
He is delighted with the results of the AREDP training. He said: >The AREDP training programmes through MRRD have been very useful to me. Over the past year, I have learned more than in a decade of working and experiencing these issues.
Abdul Hamid works in a three-hectare farm in Behsoud district of Nangarhar Province, and raises more than 25,000 fish, 7,000 chickens and over 30 cattle annually.
He explains:
In the past, we kept nine enclosures of fish, but now we have 14. Our farm could previously only accommodate 20 cows, but it can now accommodate up to 100. We have also created seven new jobs. We have greatly benefited from this training programme, and it has allowed us to expand significantly.
Shir Afzal, who also works on the same farm, particularly enjoys caring for the farm's fish. He and his junior co-workers receive salaries of approximately $100 per month.he says:
We keep 1,500 to 2,000 fish in each enclosure.The fish are very small when they arrive here. We raise them for about a year, and then sell them on the market when they grow to be one to two kilograms in weight.
The AREDP programme is funded through the Afghanistan Reconstruction Trust Fund (ARTF); to which the UK is a key donor.
Published 23 June 2015