Case study
Human rights defender Sombath Somphone in Laos
A thematic case study from the 2014 Human Rights and Democracy Report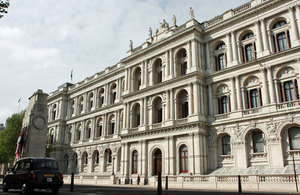 On 15 December 2012, the prominent civil society activist Sombath Somphone disappeared in Vientiane in Laos. Police CCTV footage showed Sombath being stopped by uniformed traffic police at a police post before being taken away by unknown individuals. Two years on, despite continued calls from the international community, no information about his whereabouts has been forthcoming.
The UK has offered technical assistance to interpret the CCTV footage, and FCO ministers and officials have raised the case with the Laos authorities on many occasions.
To mark the second anniversary of Sombath's disappearance, FCO Minister for South East Asia, Hugo Swire, tweeted: "Now two years since the disappearance of #Sombath in #Laos, his friends and family are still waiting for answers, as are we". In addition, staff at the British Embassy in Vientiane attended the 2014 Participatory Development Training Centre Fair, organised to mark the second anniversary of the disappearance of its founder, Sombath.
In January 2015, Laos will undergo its Universal Periodic Review at the Human Rights Council, at which the UK will recommend that Laos respond to calls from the international community, including three UN Special Rapporteurs, by establishing a thorough, transparent and impartial investigation into Sombath's disappearance.
Published 12 March 2015