Case study
Highland Perthshire
A local Scottish Highlands organisation that pumps enough money into the local economy to light the night skies.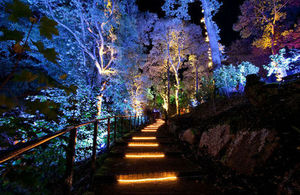 While brilliant autumnal colours are a daylight spectacle in places like New England, Perthshire's annual festival, 'Enchanted Forest', illuminates seven to ten acres of woodland in vibrant colours against a backdrop of sound each evening over a three week period each October. Billed as Scotland's premier sound and light experience, it attracts 20,000 visitors and brings £1.1 million to the local economy.
A key feature in the region's calendar since 2004, the festival was threatened with closure three years ago when the Forestry Commission, which originally organised it, had its budget cut and felt they could no longer support it financially. "The community felt it was too important an event to lose," says Derek Allan, who chairs Highland Perthshire's 'Enchanted Forest'. "So a group of us came together to see about creating an organisation to run it in the Forestry Commission's place."
The CIC model appealed to the group, says Allan.
"The CIC model was most relevant – our directors could draw a salary, the organisation could have paid employees, if appropriate, and it had a formal structure for funding," says Allan. And it has enabled the group to apply for funding for the range of other festivals and community activities that Highland Perthshire organises from groups like the EU, local authorities and foundations.
"There's an economic case to be made,' argues Allan. "If the local authority invests £20,000 in our programme and we generate £1 million in return, that's a good return on investment."
All "residual" funds that had been earmarked by the Forestry Commission and gifted to Highland Perthshire – £17,000 in 2010 – have now run out. This has meant implementing a new business model to run the festival.
"This year ticket sales alone will have to generate all the income to support the project," says Allan, confident that their business model will work. "We've looked at the pricing structure, and the transportation and hiring costs that weren't core to the event have been stripped back. We've extended the festival from 17 to 23 nights as the income potential from the extra ticket sales will far outweigh the additional operational costs," he says.
"We've delivered the event effectively on our own and brought in more people and revenue than ever before," says Allan. "And it's generated critical acclaim – it won the prestigious Grand Prix award for Best Scottish Event at the 2011 Scottish Event Awards, beating many established events, such as Edinburgh's Hogmanay, which have much bigger budgets and staff. We've created a much more sophisticated and professional show – and that will continue to be our challenge each year, to make each successive one unique and exciting."
| | |
| --- | --- |
| Name | Highland Perthshire |
| Location | Pitlochry, Perthshire |
| Company structure | CIC limited by guarantee |
| Founded | 2009 |
| Community interest statement | A not-for-profit community organisation that seeks to develop and maintain the economic benefits of major events in Highland Perthshire. |
Find out more about Highland Perthshire
Published 12 November 2013