Case study
Helmand cucumber harvest – a farmer's story
The Comprehensive Agriculture and Rural Development Facility is helping Helmand to become a centre of agricultural productivity again.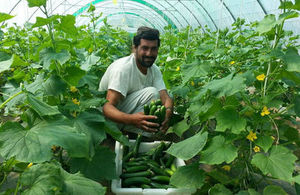 Haji Vali Khan is from the Nad Ali district of Helmand. With support from the Comprehensive Agriculture and Rural Development Facility (CARD-F), he has recently set up a greenhouse and has started to gain revenue out of his new business.
Haji Vali said:
The greenhouse was built in a week. Immediately after it was handed over to me I planted cucumbers, and got my first harvest in nearly 45 days.
Greenhouse farming is still relatively new in Afghanistan, and many farmers are not familiar with greenhouse farming practices. They therefore receive training and extension services from CARD-F on modern farming, irrigation and crop management. Haji Vali is a veteran agriculturalist, but he still finds training useful:
I studied agriculture nearly 40 years ago and have been involved in agriculture since then either in government or the private sector. I have been involved in agricultural research for a long time, but the training has been practical. Planting, irrigation and management of the greenhouse, especially its heat, is very important.
When asked to speak about his yield, Haji Vali said:
Without exaggeration, I am very happy with the greenhouse. I have harvested one tonne of cucumbers and make approximately 20,000 Afghanis in benefit.
For consumers, quality and taste matters. CARD-F consciously factors that into its enterprise development programmes. Haji Vali Khan said:
The quality of this cucumber is very different. Compared to local produce, it is slimmer, greener, and juicier.
He quickly adds:
I plan to make more greenhouses and will tell my friends to start as well. It is new but it is very good.
CARD-F aims to increase the prosperity of agricultural communities working for licit livelihoods through sustainable growth in legal rural incomes and employment in target districts. CARD-F is funded by DFID.
Published 3 May 2015