Case study
Green Africa Power (GAP)
How the international climate fund (ICF) is supporting private sector investment in renewable energy in Africa.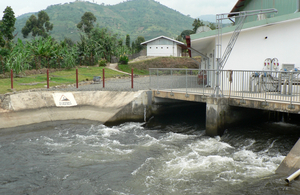 GAP has been developed jointly by the Department of Energy and Climate Change and Department for International Development and in total the UK is contributing £98million over 2012 to 2015 to tackle specific constraints to private sector investment in renewable power generation in Africa.
The UK will provide £95 million to capitalise GAP - a new company that will be established under the Private Infrastructure Development Group (PIDG) Trust. GAP will invest in renewable energy projects to demonstrate the viability of renewable energy in Africa so that future projects are more likely to happen and attract private developers and investors.
A further £3 million will be used to set up the project, monitor and evaluate these impacts and capture and disseminate this knowledge. GAP aims to support projects that will install ~270MW of renewable energy in Africa in 4 years, saving 12.97m tonnes of emissions and demonstrating the commercial and technical feasibility of private sector renewable energy projects in Africa.
More information on GAP can be found on the Development Tracker.
For further information please go to www.greenafricapower.com.
Published 14 January 2013