Case study
Foleshill library: serving a diverse community
Reflecting diversity and serving the community in Coventry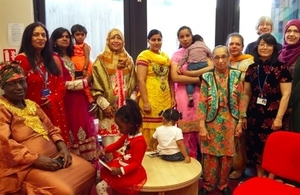 Context
Foleshill library is a branch library in one of the most deprived wards in Coventry (and in the UK). It has higher than city average populations for black and minority ethnic communities and children, particularly those under 4 years old. On average, 10,000-11,000 people visit the library per month, and 70-80 new members are registered each month.
The team at Foleshill has developed the service by:
creating partnerships and business for the library
shaping local services to meet community needs
adapting to changing needs
It is committed to Positive Images (an annual festival that celebrates the city's heritage and cultural traditions) that celebrates equality and diversity in the city, and to services becoming more inclusive for local communities.
This has involved working both in the library and out in the local community, as well as securing additional funding which is used to employ a youth worker and pay for young people's activities. Examples are laptop sessions, homework club, arts and crafts and sports and dance. The service has used this to develop a culture of flexibility and outreach work.
Description of the work
The library and its partners work by cross-matching between services to maximise opportunities for customers and increase business for the library and other partners. For example, if Foleshill work with an English for Speakers of Other Languages (ESOL) class, either in their own setting or via a visit to the library (they usually offer a home visit first) then they use this to promote opportunities for careers advice, health checks and 'stay and play' sessions in the library.
When Foleshill work with a new organisation they sometimes offer the use of library space as well as promoting a course or activity. Foleshill partners can therefore run their activities themselves but in the library. All sessions and activities held in the library have been and continue to be offered free of charge. Examples of this are 'Cook and Eat Well' sessions or computer classes where the team recruited substantial numbers to the courses, to join the library and use the computers and/or books as part of their sessions.
These are some of the partnerships and programmes offered by the library, and the different ways of funding each activity:
Youth project
Using money from the Youth Opportunities Fund, a youth worker set up a range of FLYZone sessions in the library including:
Monday Wii and laptops
Thursday laptops and arts and crafts
Friday and Saturdays homework help
Young people could also choose and buy books for the library and a range of one-off events were held including one with a graphic artist. Colleagues from the Youth Service gave in-house training to library staff. The project also involved the youth service working with the Somali community for a period of time to run regular sessions linked to their attendance at a local mosque. Library staff now run these sessions.
Family First and Stay and Play sessions
The library team attends the Foleshill Children's Centre sessions in the community. For the last 3 years the Children's Centre held their Family First session in the library, with an average attendance of 30. The library team promotes the Stay and Play sessions run by staff on other days and the rhymetime session too.
Early Hurly Burly
The library team worked with the Performance Arts section of the council to deliver a number of sessions for under 4s and their parents.
Schools partnership working
Foleshill library staff work with local schools; library staff work in the schools and classes are taken in the library.
Storytimes – celebrating diversity
Storytimes have been held every Saturday for years but the library has developed these into a celebration of festivals and cultures from around the world, for example Pongol (a Tamil harvest festival) or Chinese New Year.
Health and wellbeing events
The library works in partnership with Midland Heart and a range of organisations to run health awareness and information events in the library. These are usually held over one day (or sometimes three) and have been attended by around 1000 people in total.
One Body One Life
The team works with the 'One Body One Life' team who run family programmes in the library for parents and their under 4s. They've run several programmes in the library, including a Buggy Fit taster session.
Health checks
A weekly health check session is offered through the library to all ages, in partnership with the NHS and city council.
Meditation sessions
The library works in partnership with the Brahma Kumaris offering a weekly meditation session. As part of this they have created displays and purchased books.
Positive Images Festival
The library has been contributing to the Positive Images Festival for 10 years, running a range of events for all ages that celebrate the diversity of Coventry. This has included dance, costume, language, an Antakshri event and more. Every year a class from a local primary school creates a display in the library.
Free computer classes
The team has held computer classes in partnership with Foleshill Women's Training (FWT) and in more recent years the Worker Education Association (WEA). They've also organised a number of one off drop in sessions covering topics such as: Ebay, using the Coventry City Council website, using online newspapers, creating email accounts, and Health Watch.
Careers advice
Foleshill support access to employment by work with the National Careers Service (NCS). Each fortnight a member of their staff holds a drop-in session where customers can get help with CVs and employment opportunities. Colleagues from the NCS and FWT/WEA have also worked together closely to support customers.
Adult Education
Library staff go into Adult Education classes and invite students to visit the library. As a result people have joined the library, taken out items, and joined the Reading Ahead programme (formerly the 6 Book Challenge). A number of awards ceremonies have been held in the library for those who have completed the scheme. Adult Education have held their awards ceremony at Foleshill Library and the library manager was asked to present certificates to learners.
Outreach
There is a regular outreach programme with local gurdwaras, temples, a carers group, and a Gujerati group as well as one-off specific outreach activities. Staff are working with 12 groups each month. A member of staff takes an outreach pack and books to each location for 1 hour each month, so people can join the library remotely and borrow items. Sometimes this involves delivering some reading/poetry to the customers too.
Further information
Information about:
Libraries Taskforce blog for more examples of libraries that sit at the heart of their community, and how they contribute to community strength and cohesion
Published 30 November 2016