Case study
Flood defences: South Derbyshire residents help protect their homes
The Lower Dove flood defence scheme is a successful tale of private-public partnership.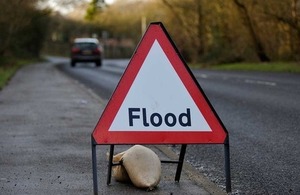 The Lower Dove flood defence scheme has just opened and is a successful example of private-public partnership.
Local authorities, parish councils and local businesses worked in partnership with the Environment Agency to protect 1600 residential properties in the South Derbyshire villages of Scropton, Hatton and Egginton.
Existing flood banks and flood walls have been improved and new ones added to improve the standard of defence. Nestle made a significant contribution to the cost of this work as it reduced the risk of flooding to their factory. They also built a new diversion channel for the Salt Brook which improved biodiversity and incorporated a new bridle path providing amenity for the local community.
Residents in the 31 homes in a Hatton cul-de-sac have clubbed together to buy the field behind their homes and then obtained grant funding to turn the field into a local nature reserve. They have planted trees and wildflowers around the flood bank and it is now not only a form of protection, but also a local leisure attraction.
Lynne Saul, secretary of Thistley Place Meadow Nature Reserve, said:
In the 2000 floods our house was surrounded by water. It was like a lake. The water came with such force that the river broke through a wall which protects some bungalows. It was like a tsunami. It was a miracle that the bungalows were still standing.
Since then a new flood bank has been erected, which has helped to better protect the village from flooding, the nature reserve created and now the flood defences have been completed.
We live next to the river but there is no danger. We don't feel worried about flooding anymore and anyone who buys property now knows there is little likelihood of a flood in their lifetime.
Published 11 October 2013
Last updated 10 March 2014
+ show all updates
Minor amendment to correct misleading text.
First published.