Case study
Fired Up about exporting
Huddersfield-based fire and security company Fired Up has been working with UK Trade & Investment (UKTI) to expand its operations in China.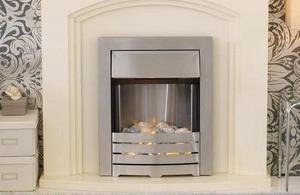 Fired Up employs over 350 people in the UK, China and most recently, the US. The original decision to operate in China was a response to increasing pressure to reduce production costs, along with continual growth and steady orders from customers.
The obvious choice for our first investment overseas was China, as it offers relatively inexpensive labour, a skilled workforce and a booming domestic market,
says CEO Richard Kaye.
We have found that there are opportunities for British companies from all sectors and of all sizes, and there's a good work ethic amongst the mature workforce.
Making a contribution
In 2010, following an introduction through its UK bank HSBC, Fired Up and UKTI began working together, exchanging information about ways in which to operate successfully in China. The company shared with UKTI its experiences as a UK business working in China, attended networking events and worked with local government officials in Nantou, where its Chinese operations are located.
Today, Fired Up has 300 employees in China and 90 per cent of its goods are exported from the factory to customers in over 50 countries. The company has also launched a retail store in Nantou Town close to its factory, and multiple online retail sites selling its own Endeva branded goods into the Chinese domestic market.
The Chinese business culture places a huge importance on personal relationships - guanxi,
says Richard.
Our relationship with UKTI has assisted in securing greater exposure, and improving our credibility across the wider region. It's important to us that our Chinese operations feel like a key part of the company and not just a supplier. To this end, we've recently embarked on a five year plan to fully integrate our UK and China business operations. We now have one management structure covering both locations and we've developed a bilingual software system.
Arrange a [face to face meeting with an International Trade Adviser](http://www.greatbusiness.gov.uk/ukti/?utm_source=GOVUK&utm_medium=Casestudy&utm_campaign=EIG
Mutual support
Fired Up continues to work with UKTI in various ways. When looking to sell from its China plant to the hospitality market in Poland, in April 2013, the company held a launch event at the British Embassy in Warsaw. UKTI sent out invitations to appropriate contacts in industry, on behalf of Fired Up.
UKTI has called upon Richard to support its work helping other UK businesses to export. Given his experience with Chinese business, he was invited to speak at an Explore Asia event in London in February 2012, organised by UKTI. This event directly led to a large contract for Fired Up with another UK business operating in China.
UKTI has also been involved in two visits by the company to Guangdong province. The first time was when Fired Up joined a delegation organised and funded by UKTI. The second was a private visit by the company, during which it went to see the local UKTI team.
We appreciate the mutual nature of our relationship with UKTI,
says Richard.
We've benefitted from their support and have been happy to host UKTI delegations from the UK at our factories in China, share our experiences and help UK businesses to gain a better understanding of the local market. I would advise those looking to operate in China first to hire someone local to head up the operation, secondly to seek the help of UKTI in engaging and developing relationships with local authorities and potential partners, and most importantly, to commit fully to immersing the company into the culture of the country.
About Fired Up
Fired Up Corporation is a Huddersfield born, global manufacturer of products for the home improvement and hospitality industries. The company's product portfolio includes fires and fire surrounds under the Adam and Aurora brands, the Corby of Windsor trouser press and electrical appliances designed specifically for the Chinese market under the Endeva brand. The company was founded by CEO Richard Kaye, who in 1998 bought local fireplace manufacturer, Adam Fires. Since then, the business has grown significantly, both through acquisition and organically.
Fast facts
Company: Fired Up Corporation
Industry: Manufacturing and Retail
Target Market: China
Website: www.firedupgroup.co.uk
Published 25 March 2014