Case study
Fantastical Feats
A dance and digital project to inspire young readers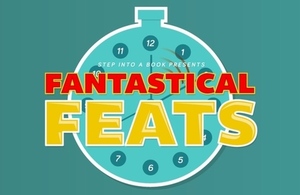 Contribution to corporate priorities
Fantastical Feats supports:
health and wellbeing
community cohesion and cultural engagement
enabling children and young people to be confident and successful learners
Description of the work and the relationship
This is a project between 15 library authorities in the south west of England: Bath & North East Somerset, Bournemouth, Bristol, Cornwall, Devon, Dorset, Gloucestershire, North Somerset, Plymouth, Poole, Somerset, South Gloucestershire, Swindon, Torbay and Wiltshire.
Fantastical Feats is year two of the Dance Digital Fusion project and follows on from The Giant's Story which featured augmented reality and a digital game with a focus on the myths and legends of the south west. Designed to complement The Reading Agency's Summer Reading Challenge (SRC) Record Breakers, Fantastical Feats brings together dance, film, illustration and narrative within an online digital game. Children are engaged with reading through the written text and stories are featured through dance films. The game's narrative, is spoken by a child and there are links to the Reading Agency's Book Sorter. In addition to the game, live dance workshops were held at Bristol, Devon, Dorset and South Gloucestershire libraries.
Chatterbooks (children's reading groups) across the region were engaged in the creation of the game content and contributed ideas on:
the largest piano in the world
the bounciest grandma
the longest time a diver can stay underwater, whilst doing a crazy dance and getting out of handcuffs
a football pitch made of sweets.
They also created the trump cards for the characters. In Somerset school children worked with the production team to develop the chosen concepts.
The project was developed through a partnership of South West Association of Senior Children's and Education Librarians, Society of Chief Librarians South West, Pavilion Dance South West and RIO, working with the creative teams of Second Hand Dance, Somerset Film and EmcArts. The programme is supported by Arts Council England's National lottery funded Grants for the Arts Award, the 15 south west library authorities and Pavilion Dance South West.
Key aims of the project
The key aims of the project were to:
innovate and explore different digital models to support reader development in libraries and to contribute to the Universal Digital and Learning Offers
enhance the uptake of the SRC across the region in 2014 and 2015
provide an opportunity for 4-11 year olds to engage with reading and literature through a fusion of dance and digital arts
offer the opportunity for the development of youth volunteering and for authorities to sign up as Arts Awards supporters or centres and have training to become Arts Awards Discover/Explore Arts Awards assessors
increase participation and awareness of cultural activity and contribute to the health and wellbeing of children through the participation in dance
Outcomes achieved
Outcomes for Fantastical Feats:
over 2533 web visits
5873 new library members registered during the 2015 SRC
87,995 children participated in SRC in 2015
the game and the dance workshops provided an opportunity for 4-11 year old to engage with reading and literature through a fusion of dance and digital arts
across Devon, Bristol, Dorset and South Gloucestershire 83 out of 173 workshop participants had not danced before and 145 found this an enjoyable activity
154 children said that they would want to dance again and it made 44 more enthusiastic about reading
50% of the 54 children who were not taking part in the challenge said that they would now join
two thirds of the dancers were girls with the predominant age group being 7-11 years
Bristol parents in particular, commented on how much they liked the idea of delivering dance and physical activity in libraries
all parents observed the class and many participated with the children
966 youth volunteers volunteered for 14,351 hours in 287 libraries
10 authorities in the region are now arts awards supporters and 6 authorities have trained arts awards assessors for Discover / Explore awards
during the summer 79 children were awarded Discover / Explore Arts Awards
Accomplishments/lessons learnt
Over the two year programme, fifty artists were involved, in 174 dance sessions and 28 performances. In total 2338 children participated, including those who engaged in the Big Dance events, which were run in collaboration with The Giant's Story. The majority of children were at key stage 2 level and in addition 353 adults joined the dancing. For the games, The Giant's Story and Fantastical Feats, 4912 web visits were recorded.
Feedback from children
"It was really good but I love football better and always will"
"Fantastic and a bit embarrassing"
"It was really good being a troll"
"It was the best workshop in the library"
"I learned cool moves"
"I loved it and I learnt lots about street dance"
Feedback from library staff
"Use of dance and the game really appealed to lots of children and parents seemed delighted with the opportunity to being children to dance activities in libraries."
"In 2014 we had physical dance in our libraries. Holding events to encourage physical visits and 'outside of the box' activities fits in more with our current business plan. It is good to work collaboratively across the region."
Feedback from partners
"The Fantastical Feats dance and digital project successfully brought together artistic forms, reading and cultural partners in an imaginative initiative. Children and families were able to enjoy very special experiences in libraries during the two years of the Dance Digital Fusion project – Fantastical Feats and The Giant's Story. The initiative has encouraged sustainable collaborative partnership work both locally and regionally." Medi Bernard - Chair, Society of Chief Librarians South West
"Building on the great success of the previous two years' dance projects in libraries, Fantastical Feats was a digital dance fusion which engaged children in fun and practical ways to encourage their interest and enthusiasm for reading. Dance allows people to express themselves physically, helping them make sense of the world around them and a digital online element gives a different perspective on a cultural experience. The dance events accompanied by the digital game helped connect children to the magic of stories, illuminating the joy of reading." Phil Gibby - Area Director, South West, Arts Council England
"Working with libraries has enabled our dance work to reach wider and new audiences and has led to new collaborations to benefit local communities. More of this kind of crossover work can only be a good thing." Zannah Doan - Regional Producer, Pavilion Dance South West
The game was developed as a stimulus for creative workshops and activities which libraries could devise but unfortunately the take up on this aspect was low due to the specification of many library browsers across the region. Also many services are just developing digital workshops and related activities and at this stage were not able to take full advantage of this medium.
Future plans
They will continue to work towards all south west library authorities signing up as either Arts Awards centres or supporters in order to develop the role that libraries play in cultural engagement. Working together on this project, libraries in the south west have been able to develop relationships with local dance organisations and there are plans to explore future projects for children and families including; dance and emotional wellbeing and dance inspired coding workshops.
Additional information
Published 18 January 2016