Case study
Family business Origin Global expands into US market
Financial support and practical advice from UKTI helps door and window makers Origin Global build a successful US business.
This case study was withdrawn on
This page has been withdrawn because it is out of date.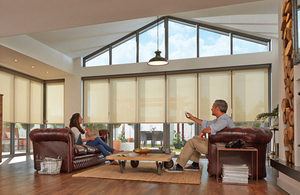 Origin Global has used UK Trade and Investment's (UKTI) Market Visit Support (MVS) and Overseas Market Introduction Service (OMIS) to open doors into the US market.
Sales in the USA are going well and Origin expects to make £3 million in its first year of trading.
Ben Brocklesby, Sales and Marketing Director, Origin Global Ltd said,
We've found UKTI's support of our export expansion plans to be invaluable.

The financial support and practical advice has been really useful.

Just as useful is the friendly network we've built up. They're always happy to help and advise us, whatever the questions are, and it seems that they always have us in mind.
Exporting to expand
After experiencing a decade of excellent business growth in the UK Origin realised that its future expansion was going to come through export.
The company successfully used UKTI's services to expand into the Middle East market via Dubai. By 2014 around 5% of its business came from this region.
Expansion into US market
The company then decided to explore the US market which looked to be an attractive proposition. The US was not yet extensively using aluminium and bi-fold doors in construction and it was felt there would be a market for Origin Global's poducts.
Company representatives met UKTI's USA team in London in March 2013. They then commissioned an OMIS report which confirmed its impressions of the potential in the USA. The report also identified Florida as the ideal region for a new office and UKTI helped Origin to find new premises in Venice.
Ben Brocklesby said,
Florida is the best place in the USA for us to base ourselves, because of the climate and also because it needs hurricane-resistant doors.
It also has a great construction infrastructure and relatively low corporation taxes.
UKTI provided market visit support for a visit to the USA, introduced the company to the right people and helped it find a suitable office.
Opening US subsidiary
Origin's US subsidiary, Origin Bi-Folds, opened in April 2014 with 8 employees including a President, a manufacture and installation team, an office manager and sales staff. Work started on orders in July.
System components are shipped from the UK to Florida, where they are cut and shaped according to the customer's specifications using specialist machinery brought over from the UK.
The company has sold its products into 12 US states so far and has plans to expand into several others over the next 2 years.
Ben Brocklesby said,
Our UKTI contact in the USA has kept in touch, giving us new ideas, letting us know about events and introducing us to people who might be useful contacts in the future.
US Scholarship Programme
In September 2014, UKTI covered the costs of tuition and accommodation for the company to take part in the US Scholarship Programme, organised by UKTI and the Ellis Goodman Foundation.
The 5-day intensive course, entitled 'Fundamentals for Success in the US Market', took place at the distinguished Kellogg School of Management in Illinois and covered a range of practical issues to help British businesses understand the US market.
Ben Brocklesby said,
… the Kellogg course was one of the best things I've ever done.
Future expansion
Elsewhere in the world, Origin is planning to explore and expand into Europe and has attended UKTI trade shows in France and Germany. The company is also working to improve its existing products and to develop a new inline sliding door and an innovative range of windows. UKTI will continue to play a big part in its future plans.
About Origin Global
Origin is the UK's leading specialist manufacturer of bespoke aluminium bi-folding doors, windows and made-to-measure blinds.
The business was started in 2001 by cousins Neil Ginger and Victoria Brocklesby when they noticed a trend for house extensions made from glass and metal frames. They realised there was an opportunity to fill a gap in the UK market for high quality, durable aluminium windows and bi-fold doors.
Origin is based in High Wycombe and had a turnover of £17 million in 2014 employing more than 170 employees.
Fast facts
Company: Origin Global Ltd
Sector: Construction - building products
Target markets: Dubai, USA
UKTI services: Overseas Market Introduction Service, Market Visit Support
Website: www.origin-global.com
Published 27 May 2015