Case study
Export success for Northern Diver's diving suits and equipment
With the help of UKTI DSO, Northern Diver's exports now account for 30% of its business.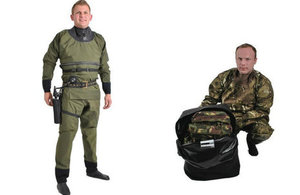 Northern Diver has exhibited on UK Trade and Investment (UKTI) stands at several international trade shows. This, along with introductions by UKTI Defence and Security Organisation (UKTI DSO) to military procurement teams from around the world, has helped boost the company's exports.
A keen sports diver, Michael Armitage set up Northern Diver 40 years ago to manufacture drysuits and diving equipment. Since then the company has grown to achieve a turnover of £5.5 million and employ a staff of 38. They work out of a purpose built manufacturing and storage facility in Appley Bridge, Lancashire.
Branching out
For the past 9 years, Northern Diver has held a contract with the British Ministry of Defence (MoD). The company began to proactively seek out export opportunities in 2010, once it was clear that this demanding contract was running successfully.
Neil Tordoff, Military Sales Director at Northern Diver, visited UKTI's London office and met with desk officers from different markets. He received information about exhibitions where Northern Diver could showcase its products to international buyers, on a stand organised by UKTI DSO.
This was the beginning of a relationship that has supported the company's success in exporting 30% of its business to customers in Europe, Russia, Australia, the US and the Middle East.
Neil Tordoff said:
The fact that we are associated with UKTI is a seal of approval and gives people confidence to talk to us.
We've never been to an exhibition with UKTI DSO and not won new business.
New export business
Northern Diver met procurement officials from the Royal Saudi Navy, when attending NAVDEX in the United Arab Emirates (UAE) in February 2013, where they expressed an interest in the company's equipment.
Neil visited Saudi Arabia in November 2013 and January 2014 for further talks and demonstrations. The local UKTI team provided support and advised on local business culture. They also put Neil in touch with a contact from the British Royal Navy posted in Abu Dhabi who acted as his guide. Northern Diver is now working on a project with the Royal Saudi Navy.
Meanwhile, in January 2013 Northern Diver attended a UKTI maritime security capability event at HMS Collingwood, where it met a delegation of military officials from south east Asia.
The Royal Thai Navy was impressed with Northern Diver's range, but had no budget at the time to place any orders. They have now told the company that budget has been put aside and an order is anticipated.
At a similar event in January 2014, Northern Diver met a group from Latin America and the Caribbean, making crucial contacts that should lead to new business for the company in these markets.
Neil Tordoff said:
UKTI provides a unique service and creates opportunities for us to meet military procurement teams from around the world.
There's no doubt that the support we have had from UKTI over the years has been one of the catalysts for our international success.
Fast facts
| | |
| --- | --- |
| Company | Northern Diver |
| Industry | Marine, Defence |
| Target Market | Saudi Arabia |
| UKTI Services | Defence & Security Organisation; Events - tradeshows and exhibitions |
| Website | www.ndiver.com |
Published 24 July 2014