Case study
Export Marketing Research Scheme helps PMA plan for China
UKTI's Export Marketing Research Scheme (EMRS) helped PMA Media Training understand the Chinese media training market and plan for future growth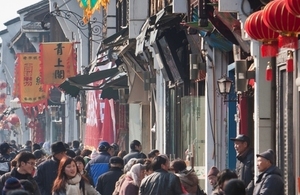 PMA Media Training provides communications training to the media industry.
In 2006, Riva Elliott took responsibility for business development within the company and was keen to investigate export opportunities. Some initial desk research suggested China could be a good market for PMA. Before investing time and money, Riva wanted to gain a better understanding of the Chinese market.
PMA joined the UK Trade and Investment (UKTI) Passport to Export programme for new and inexperienced exporters, and learned about the Export Marketing Research Scheme (EMRS). The EMRS is a UKTI Scheme providing professional advice to help businesses understand the dynamics of a potential overseas market before creating an appropriate strategy for launching in this market.
Riva met with EMRS research adviser Richard Gilbert and discussed whether their current offering was appropriate for the Chinese market, which regions might be more suitable, and how they should promote their services in the market. Richard helped Riva to create a plan, an important element of which was a market research trip to China to interview relevant people and find the necessary information.
With a full itinerary of meetings, Riva spent 2 weeks in China interviewing Managing Directors and CEOs of both magazine and book publishing firms, Chinese government officials, journalists and UK embassy experts in China.
Riva learnt that the market dynamics were quite different to the UK. Training from a UK provider was highly desirable, but PMA Media Training would need to adapt their offering to a more traditional classroom-based style to succeed in the market.
She was also surprised by the high value placed on developing relationships face to face - their service would have to focus on this. Another significant finding was the size of the opportunity in China. Whilst this was clearly exciting, Riva knew that PMA would struggle to manage such large scale business with their current resources.
Riva concluded that whilst there were clearly opportunities in the major cities within China, the market was perhaps not ready yet for PMA's more innovative learning approach. PMA decided to focus their efforts on the smaller markets of Hong Kong and Singapore, where PMA's more innovative style was more appropriate and the scale of operations would be smaller. They kept a watching brief on the Chinese market.
PMA has now been taken over by the Press Association. During the recession they spent more of their time maintaining existing business. However, since business has been picking up, they have been re-establishing contacts in China. Their links with the Far East are still strong.
Riva is optimistic, saying:
Tackling the huge Chinese market seemed rather daunting back in 2006 but now, with the strong relationships we've developed, a good understanding of the market learned throughout the past six years and with the backing of the Press Association, we are in a strong position to win from the many opportunities in China.

Without the advice of the Export Marketing Research Scheme and what we have learned about the market, I doubt we would have had the courage to follow the Chinese opportunity through. It has been a long courtship process but that is the way business is done in China. You only get one shot at it and we are determined to get it right.
Published 8 May 2014