Case study
Empowering communities in Afghanistan
Helping Afghan people decide for themselves how to tackle poverty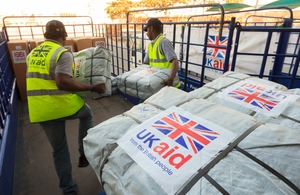 Empowering communities to rebuild a country
Video: working with local people in Afghanistan to provide them with what they need
Community decisions
"Everyone got ill. There was a lot of sickness because we had to drink dirty water from the pond. No one planted the fields."
Habibullah is a farmer in Qasob village, western Afghanistan. Sitting in front of a reservoir full of fresh water, he explains what life was like before the reservoir was built.
"The main problem was a lack of drinking water. Many people just left the village," he says.
"But now our streams are full of water. Our wheat production has doubled because the reservoir quickly takes water to our fields."
Two fresh water reservoirs in Qasob village have been built thanks to support from the National Solidarity Programme (NSP). The programme, which is part-funded by UKaid from the Department for International Development, provides communities in Afghanistan with funds to build facilities like roads, schools, health clinics and water systems.
NSP puts the Afghan people at the heart of decision making. Each community involved in the programme elects leaders to a local Community Development Council (CDC). These councils then decide what the priorities are for their community. They draw up Community Development Plans and manage and implement projects like building the Qasob reservoirs.
Habibullah thinks this is a good idea: "We are best equipped to know what the problems are in our village and to decide how to fix them. We did the work on the reservoir ourselves. People think this is good."
Unity and brotherhood
On average each community receives a grant of £37,000 from the programme. So far about half of the projects have concentrated on improving water supplies and transport. But other success stories include new schools, vocational training projects and health clinics.
Once established, a village's CDC can help solve problems and make decisions about the future of the village, above and beyond the National Solidarity Programme.
Saifundin, an engineer from Qasob village, has already seen this in action: "Since the National Solidarity Programme started it has brought unity and brotherhood to the people and eliminated any kind of discord and injustice. Now if there is a problem, people sit down and talk about it."
Rebuilding a country
NSP is one of the government of Afghanistan's most successful programmes. Since it was set up in 2003, more than 22,000 Community Development Councils have been elected by local communities and 32,000 projects have received grants.
Importantly, through the use of self-governing institutions like the Community Development Councils, Afghan communities are able to tackle poverty themselves.
Community Development Chief, Sher Wali Khan, thinks this is key: "We want to stand on our own two feet," he says. "We want to rebuild our own country."
So far UKaid, through the Department for International Development, has contributed more than £30 million to the programme. It is hoped that the programme will now be extended, bringing community driven development of health education and job creation schemes to an additional 10,300 communities in hard to reach, less secure areas.
Facts and stats
NSP operates in 359 out of a total of 398 districts and in all 34 provinces.
More than 22,000 CDCs have been established through democratic elections, involving men and women.
UKaid, through the Department for International Development, has contributed over £30 million ($48.6m) to NSP.
NSP is supported by 16 donors. Its total budget to mid-2010 is $930 million.
Published 20 July 2010