Case study
Elina, age 51, Clydebank: Work Programme real life story
'Without this support and encouragement I think it would have been more difficult to get back into the workplace.'
This case study was withdrawn on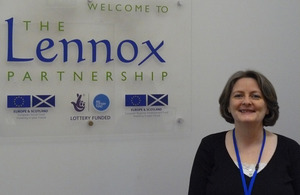 With qualifications and 20 years experience, Elina had applied for many jobs but felt de-motivated over the lack of response from employers.
After being unemployed for 12 months Elina entered the Work Programme where she was able to access job search facilities and support provided by the Lennox Partnership.
Elina's confidence grew as she worked with her adviser on interview preparation to sell her skills. A few months after joining the Work Programme her adviser told her about a position at the 'Strive for Families' project.
Elina's efforts paid off as the interview was a success and she was offered a temporary position.
Elina is now in a much better position to support her family and she really appreciates all the help she received on the Work Programme.
The Work Programme is part funded by the European Social Fund.
Published 15 April 2013