Case study
Diversity Films
A unique company providing skills and training in film-making to communities in Glasgow.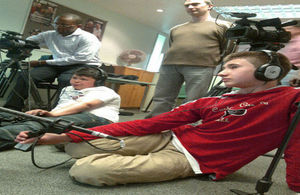 An innovative Community Interest Company is gaining a name for itself by taking aspiring filmmakers from diverse groups in Glasgow, nurturing their talent and launching their work at local, national and international festivals.
Diversity Films offers filmmaking training programmes to people from different communities in Glasgow. As its name suggests, it aims to reach diverse groups, including teenagers in deprived areas, unemployed adults and older people. Since its inception in 2007, Diversity Films has trained about 300 people and produced over 50 films.
Co-founding director Abigail Howkins says: "We're opening up access to film training for people who would not ordinarily get this opportunity with some great results. Our programmes provide an opportunity for the next generation of filmmakers to come through."
The filmmakers development programmes offered by Diversity Films equip people with the skills, motivation and opportunity to create short films for multi-platform distribution and exhibition, including local community screenings, TV, internet broadcast and international cinema screens.
The CIC's core programme called Starting Block, provides six film-making teams with the opportunity to develop and produce their first short film commission.
"Our pilot Starting Block programme has been really successful," explains Howkins, "We've been getting more invitations to show work from the programme around the world and that helps raise the level and profile of our film-makers and their work. In 2009 one of our young trainees got a Bafta nomination for her first ever film. This is a great achievement."
When Howkins and her two fellow founders established Diversity Films they decided that a CIC structure was best for them. "It was a fairly new concept at the time but it seemed to suit our purposes best. It allowed us to be a company and serve our community purpose. It gave us the most flexible structure," she says.
The organisation has operated mostly on grant funding from the National Screen Agency, local authority and trusts; however it is growing its income from commissioned pieces of work from organisations such as NHS, Scottish Human Rights Commission, Barnardos and Action for Children.
"It's been great to see a lot of the people that have gone through our programmes have been encouraged to go on to a variety of opportunities, including studying film and media as well as continuing to make films. In the future we want to develop the areas in which we work and also develop the programmes building on our success. We're looking to expand into other regions and have plans to operate nation wide across Scotland next year," says Howkins.
| | |
| --- | --- |
| Name | Diversity Films |
| Location | Glasgow |
| Company structure | CIC limited by guarantee |
| Founded | 2007 |
| Community interest statement | Diversity Films is set-up up to offer training in filmmaking to excluded communities. |
Find out more about Diversity Films
Published 1 August 2013