DFID Research: Taking plants to the doctor - plant health clinics from Bolivia to Bangladesh
Smallholder farmers in 9 countries are benefitting from the establishment of walk-in plant health clinics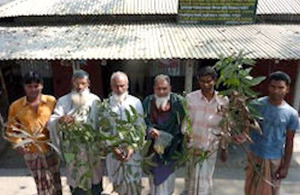 Plant health clinics in 9 countries are giving farmers unprecedented access to expert advice on pests and disease. As well as promoting good pest management, the low cost clinics are bringing thousands of farmers into mutually beneficial interaction with researchers.
A series of DFID partners have, for the last 10 years, been establishing walk-in plant health clinics in 9 countries to provide expert advice to smallholder farmers dealing with pests and disease. Accepting any query on any crop, the clinic 'plant doctors' diagnose problems and write down treatment advice prescription-style. When necessary, samples may be sent to partner labs, giving poor farmers access to world class diagnostic services. The result has been smarter and lighter use of pesticides, as well as increased incomes for farmers and a new relationship between research and farming.
The project started in Bolivia, where 8 clinics serve thousands of remote farmers, and has spread to environments as different as Bangladesh, where visiting farmers report average crop income boosts of 37.5%. Breaking the mould of the traditional development project, plant health clinics are intended as self-sufficient fixtures of the community, providing a public service that can truly change the livelihoods of farmers.
Read the full version of this case study. 
More information
The first clinic in Bolivia grew out of a DFID-funded project, MIP Papa (Integrated Potato Pest Management), which gave rise to the Ladiplantas diagnostic laboratory. Today, DFID funds the Global Plant Clinic (GPC) managed by CABI in alliance with Rothamsted Research and the Food and Environment Research Agency. DFID has provided more than £1 million in funding since the body's inception in 2002. The GPC in turn supports the more than 80 plant health clinics around the world with start-up grants, diagnostic lab services, training, quality control, impact assessments and links to the larger plant health community. GPC also publishes peer-reviewed new disease reports, extension material written by plant doctors and research on building plant health systems.
Published 17 March 2011