DFID Research: taking a look at the benefits of floodplain management
Integrated Floodplain Management can help both farmers and fishers.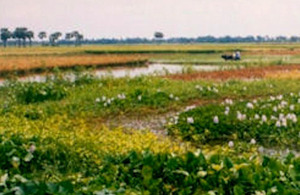 Farmers and fishers who have adopted Integrated Floodplain Management (IFM), have benefited from a combination of higher catches, higher incomes from crops, and greater community solidarity
Integrated Floodplain Management involves fishing control, and changes in cropping patterns, to maximise returns from water and sluice gate management. The IFM approach recognises the floodplain as a system, where the uses and amounts of surface water in the dry season or monsoon, critically affect the 2 main products - crops and fish. Both products are important, and the project demonstrated that overall returns from floodplain systems can be increased.
A major change in cropping patterns included a reduction in boro rice cultivation, with adoption of pulses and new crops such as potatoes and garlic on 20% of land. One small-scale farmer commented that while cultivating rice is traditional, farmers had not realised how they could gain, both financially and environmentally, by growing alternative crops. Instead, dry season crops with low irrigation demand, such as garlic and mustard, were profitable and resulted in more surface water, which the community protected as a fish sanctuary. This enhanced fish survival, and encouraged breeding.
Linking people
Floodplains cover over a third of Bangladesh, and significant areas of south-east and south Asia. In the past, development support has been divided into sectors, but research shows that a 'systems approach' is successful. That is, modifying agriculture, water use and fishing to adopt a range of sustainable practices that complement one another, increase overall production and improve links with service providers. In this way, it is possible to increase joint benefits and returns from the floodplains.
The project has brought together fishers, farmers and sluice operators in Goakhola-Hatiara Beel pilot area, encouraging confidence in the community, and even encouraging take-up of new ideas and technologies by the neighbouring floodplain communities. They have formed a central committee, and written a constitution to register with the social welfare department. Major achievements have been to successfully facilitate discussions and links between community members, government agencies and officials, where before, a conflict of interest existed between separate stakeholder groupings.
The impacts of new technologies have been spread to policy stakeholders, intermediaries and practitioners. Small, local investments have improved water management. Greater use has been made of government extension services, for example access to seeds and techniques to reduce water pollution, such as processing jute fibre. And the Department of Fisheries has incorporated the concept into their Inland Capture Fisheries Strategy for the country, which was approved in 2006.
Published 26 March 2007