DFID Research: Straight Talking to combat HIV among young African women
A project in Uganda is helping young women talk about their lives with a view to developing a more gender aware approach to HIV prevention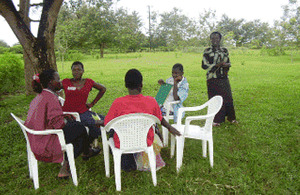 Young women in Africa are disempowered in a number of ways which increases their risk of HIV infection. This is not sufficiently addressed by current HIV prevention practice. HIV prevention needs to take a gendered approach which recognises the different needs and circumstances of young men and women - but in order to do this, ways need to be found to encourage girls to talk about difficult subjects.
Straight Talking in Uganda
In an innovative study in Uganda, COMDIS worked with the Straight Talk Foundation, a Ugandan NGO that uses radio, print and face-to-face work to help adolescents rescript their lives. Working with a small group of women aged 15 to 19 years, the project examined suitable ways to enable girls and young women to talk about their lives and experience. The study used participatory methods involving storytelling, drama and pictures. One of the participants wrote a story describing the difficulties young women can face in attending school.
"One day I went to my friend's home to visit her. She was happy and her mother but after giving me tea she told me her problems. She told me that her father stopped paying for her school fees. That he is paying for boy only. I asked her that your father is around she told me that no. I told her that I will come back another day. After sometime I went back. The good thing her father he was there. I told her father to come where I was sitting. I told her (him) that you stop giving only boys school fees because even girls they can get jobs. After that her father told her to go (to) school. She was in S6. She sat for her exams and she passed. Now she is a teacher. So let parents give both girls and boys school fees."
Schools have a key role in HIV prevention
Not attending school may put young women at greater risk of HIV, as many HIV prevention messages and strategies are channelled through schools. If young women are excluded from school, they are less likely to be included in these strategies. This story shows that advocacy with parents and the wider community on the issue of female school attendance is an important and ongoing need.
If young women are given the opportunity, they have much to contribute in terms of their viewpoints and experiences. The next stage of this work will be to help develop mechanisms which acknowledge and address power relations in HIV prevention in relationships, schools, families, and communities. This will enable young women, and young people more generally, to be better targeted by agencies working in HIV prevention.
Published 28 October 2009