DFID Research: Story telling raises awareness of gender issues in Egypt and the Arab world
This project shows how exposing young writers to ideas of gender equality had a huge impact on their lives and writings.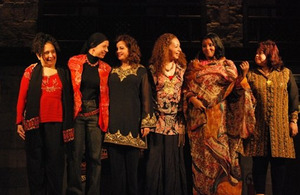 Background
Ana el-Hekkeya (I am the story) is a group of academics, writers and artists, working on raising public awareness on gender issues. Recently the group worked with young journalists, writers, poets and bloggers, to re-examine the gender stereotypes dominant in popular culture through a series of writing workshops. As the participants were important producers of popular culture and played a part in shaping how their readers perceived women, producing gender-sensitive stories through these workshops is one of the group's main achievements.
In Egypt and the Arab world, most locally produced cultural materials such as literature, media and cinema productions, display gender discrimination that disempower women and limit their potential roles in their private and public lives. A recent wave of political conservatism in the Middle East has also emphasized misconceptions about women and their contribution to society, strengthening dominant patriarchal views. The scarcity, or sometimes absence, of cultural materials providing more positive images of women accentuates the subordination and marginalization of women, which becomes internalized and adopted by new generations. This case study from the DFID-funded Pathways of Women's Empowerment programme shows how exposing young writers to ideas of gender equality had a huge impact on their lives and writings.
What happened?
Using real life stories of women as a starting point for the workshops made the quality of writing very real and human. Having the young writers add their own life experiences and visions to workshop material made their stories and impact more profound. The workshops encouraged the authors to write stories of change that trace their experiences of gender issues and together produce a body of feminist cultural material. Both sexes participated in the workshops and the discussions of the topics raised by the facilitators challenged dominant misconceptions, so that participants eventually started questioning the stereotypes that have been presented to them through different kinds of art, media and education, for example, in children's stories.
Ana el-Hekkeya helped the participants disseminate their work through public performances to reach a wider audience of different age groups and backgrounds. The Wekalet El Ghoury performance is a great example of this. The performance contained stories from three workshops held for young Palestinian women writers, Sudanese mid-career men and women writers and artists, and a group of Egyptian young writers/bloggers.
This performance led the director of the Seheimi Cultural Centre (one of the departments of the Ministry of Culture) to invite the Ana el-Hekkeya group to perform in Seheimi House, one of the most popular cultural centres in Cairo, on two occasions for three evenings. The director of the Department of Popular Culture in the same ministry also invited the group to perform in the Opera House on the occasion of celebrating International Women's Day. This was a great achievement considering the Ministry's limited resources.   ### Outcomes
In total, 63 gender-sensitive stories were written in four writing workshops and 12 of these stories were included in Wekalet El Ghoury, a storytelling performance that was attended by more than 400 persons of different ages and sexes and social backgrounds. The performance inspired the production of an animation of some of the stories for wider dissemination, plus performances at other venues at the invitation of the Ministry of Culture.
A number of the young writers who participated in the writing workshops asked for a follow up. They worked very hard to provide a regular venue for a monthly writing workshop and Ana el-Hekkeya volunteered support and expenses for materials.
Through its activities, Ana el-Hekkeya represents an interactive model of women's empowerment, allowing space for empowering communication to be locally developed and not imposed by outside influences. Understanding empowerment through creative processes is a special focus for Ana el-Hekkeya, as it works on empowering women through a gender-sensitive and artistic production of knowledge.
More information
The Women and Memory Forum, Social Research Center at the American University in Cairo, and the Institute of Development Studies participated in this project, conducted as part of the Pathways of Women's Empowerment programme.
Published 20 October 2010