DFID Research: satellite imagery to assist in monitoring volcanic activity
New warning systems for volanic eruptions are being put in place in Central America.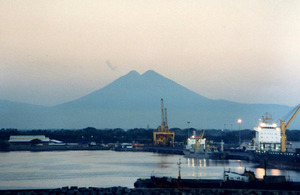 Central America is one of the most hazardous places for volcanic eruptions, and unfortunately it's also one of the world's poorest regions. Half the population live in rural areas, and almost half live below the poverty line. Despite its small area, Central America has suffered many of the world's most dangerous explosive eruptions of the past 200 years. Despite these dangers, the fertile slopes of more than 20 active volcanoes in Nicaragua, El Salvador, Guatemala and Costa Rica are densely populated, and this combination of poverty and frequent volcanic activity is deadly. Poor people farming the rich volcanic soils on the slopes of volcanoes are at risk of volcanic eruptions, and the ash, gases and mudflows that often come with them.
In response to this deadly and ever-present threat, DFID-funded researchers in the volcano monitoring unit at Kings College London have devised new warning systems, enabling poor people in central America to be informed and have more time to evacuate before volcanic eruptions.
The new early warning system based on daily updated satellite imagery, a website, email alerts, and better co-operation and communication mechanisms has already been used to understand and respond to emergencies. Prior to an eruption of the Fuego volcano in Guatemala, a significant change in the amount of heat the volcano was producing was detected in satellite images. Changes were apparent around 2 weeks before the major January 2004 eruption, well before any change in seismic activity.
Detection, analysis and early warning systems of this type have the potential to save many lives in Central America, and similar systems could assist monitoring in other volcanically active areas, notably in other areas of the Pacific Rim (especially South America, Indonesia, and Philippines) and possibly Central Africa.
More information
See DFID project record for Enhancing volcanic hazard avoidance capacity in Central America through local remote sensing and improved risk communication (EVHAC)
Published 31 August 2007