DFID Research: rights of the camp-dwelling 'Bihari' community in Bangladesh
Bangladesh awards citizenship rights to the Bihari following DFID-funded campaign.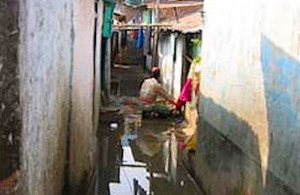 On 5 September 2007 the government of Bangladesh decided to award citizenship rights to a disfranchised ethnic grouping, the 'Biharis', following a concerted campaign by the Refugee and Migratory Movements Research Unit (RMMRU) under the DFID-funded Development Research Centre on Migration, Globalisation and Poverty (Migration DRC). The plight of the Bihari's has been a long one. At the time of the partition of the British Indian Empire, many Muslims from the Indian state of Bihar, the Urdu-speaking 'Biharis', moved to what was then East Bengal, which shortly thereafter became East Pakistan. In 1971, when war broke out between West Pakistan and East Pakistan, many Biharis were considered to have sympathies with West Pakistan. However, when East Pakistan became Bangladesh in December 1971, the Biharis were left behind as the Pakistani army and civilians evacuated and the Bihari population in Bangladesh found itself unwelcome in both countries.
To this day around 160,000 Biharis live in camp settlements around Bangladesh. The camps are mainly in urban areas, and are beset by severe overcrowding, poor sanitation, and lack basic facilities. Initially set up as temporary structures, the past 36 years have seen the slum-like conditions in these settlements worsen as the population has grown. Camp dwellers are denied opportunity of appointment to government positions, and due to their address and undefined status they suffer discrimination in the wider job market. Camp addresses also cause problems for Bihari children seeking education. There is a severe lack of resources for school fees or materials, and educational facilities remain inaccessible to the majority. Disenchantment is widespread; one Dhaka camp resident explaining his plight to researchers said: "I work hard in this country but however hard we work we are always paid less. Whatever is expected of me here I will do, but in return I expect the State to do the same for me". Nonetheless, RMMRU's research showed that 90% of the residents of Bihari camps in Saidpur and Dhaka wanted Bangladeshi citizenship, contrary to views reported in the early 1970s when it was said that most Biharis wished to be Pakistani citizens.
The issue of citizenship for the Bihari community in Bangladesh became critical when the government took the initiative to revise voters' rolls and introduce national identity cards. Most Biharis are not registered to vote, and so risk being excluded from the identity scheme. The national identity card scheme will give citizens access to a wide range of services including getting a passport, opening a bank account or securing a loan, getting utility connections, registration for public examinations, applying for public services, marriage registration, applying for government subsidies, selling and buying land and vehicles, admissions to schools and lodging petitions and appeals in court.
Granting of effective citizenship rights to the members of the community has been continually deferred, despite a number of pronouncements by the judiciary to the contrary. In May 2007 RMMRU undertook a programme of advocacy and communications working with the Biharis. RMMRU published policy papers and organised a series of consultations with various groups to draw the attention of policymakers and Bangladeshi society to this issue. RMMRU ran signature campaigns of eminent citizens, published newspaper articles on citizenship rights, and engaged in local and national dialogues with Bihari organisations and community groups, NGOs and human rights groups. The campaign highlighted the problems Biharis would face if they were not given full citizenship rights.
Despite the overwhelming desire for Bangladeshi citizenship, fear of eviction from the camp when citizenship is formally announced (subject to ratification by the Ministry of Law) is a very real concern among many residents. It is hoped that voting rights and identity cards will give the Biharis access to a wide range of rights as well as help protect them from fears about their own security.
More information
See the project record on R4D for the Development Research Centre on Migration, Globalisation and Poverty (Migration DRC)
Read the DRC on Migration, Globalisation and Poverty Newsletter, October 2007 and the RMMRU Policy Brief 2: Accessing Rights as Citizens: The Camp-based Urdu-speaking Community in Bangladesh
Published 17 January 2008