DFID Research: Rainmakers and meteorologists share knowledge to combat climate change
Traditional knowledge and modern scientific method have been combined to provide information about climate change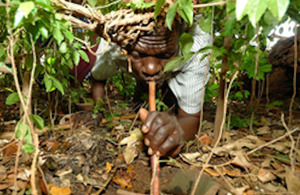 A project in Kenya, supported by the IDRC/DFID-funded Climate Change Adaptation in Africa programme, is combining indigenous knowledge with modern science to provide the local community with information on climate change.
For generations, the Nganyi people of western Kenya have served as rainmakers, helping local communities decide when best to prepare their land and sow their seeds. By observing subtle changes in nature that would be unnoticeable to most people - in air currents, the flowering and shedding of leaves of certain trees, the behaviour of ants, bird songs, even the croaking of frogs and toads - they have been able to interpret weather patterns and provide valuable advice.
But even the Nganyi have been flummoxed by climate change and the alternating cycles of droughts and floods it is inflicting.
"Climate change has come on so fast. People don't know how to adapt or what to plant," says Obedi Osore, a traditional Nganyi weatherman. "Our traditional crops are disappearing because they cannot handle the new conditions. We need new strategies to handle climate change."
A British-Canadian project aims to combine indigenous knowledge with modern science to build up climate change intelligence and disseminate it more widely in a community whose existence depends almost exclusively on farming. Read the full story, If the weatherman says it's raining…, which includes a photodocumentary, on the DFID website. The project, launched last year, is led by the IGAD Climate Prediction and Applications Centre (ICPAC), with support from the International Development Research Centre (IDRC) - DFID Climate Change Adaptation in Africa programme.
More information
Published 9 December 2009