DFID Research: Pakistan has a chance to slow the spread of HIV
A major survey of HIV and other sexually transmitted infections in Pakistan has shown there is a real opportunity to slow the spread of the disease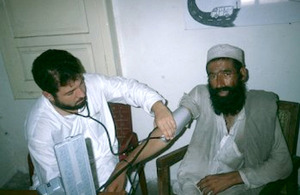 The survey has revealed that a HIV epidemic is at an early stage, and that spread of the disease could be slowed through advice and targeted support, particularly for sex workers and injecting drug users. The study found, for example, that transgender sex workers had very little access to health services and information, and suffered prejudice and human rights abuses, resulting in higher risk of spread of the disease.
Naveed, a transgender sex worker in the slums of Rawalpindi, says that the police "threaten us with telling our family about our activities and we try to pacify them by offering sex". Although few such sex workers had HIV, levels of syphilis and other sexually transmitted diseases (STIs) were very high, and those who said they had been sexually and physical assaulted by the police and clients were much more likely to have an STI. The sex workers knew very little about HIV and sexual health in general, and rarely used barrier methods such as condoms during sex. While injecting drug users knew more about HIV, they still shared or re-used needles because they couldn't get new ones.
Fear of ill treatment and exposure meant that sex workers and drug users were not getting treatment or advice, despite their potentially crucial role in spreading HIV and other STIs. Tackling the vulnerability of these groups is vital for any efforts seeking to stem the spread of HIV."A window exists to prevent a wider HIV epidemic in the country, but this is likely closing", says a summary of the survey.
The study recommended trialling oral drugs to avoid transfer of infections through unclean needles. Comprehensive sexual health services for sex workers are recommended, but it is also crucial that the police and healthcare workers are trained to avoid discriminating against drug users and sex workers to ensure that these groups can get information and treatment.
The study has already been used by Pakistan's National AIDS Control Programme in seeking funding to reach the vulnerable and critically important groups.
More information
Published 28 January 2010