DFID Research: multiple micronutrient supplements and the prevention of newborn deaths
Studies find little evidence for the benefits of supplements.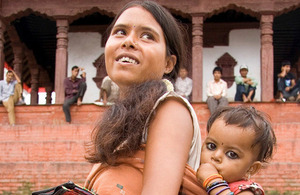 A third of global deaths happen in children younger than 5 years, most in newborn babies. Low birth weight (under 2.5 kg) underlies many of these deaths; and is associated with diminished childhood growth, higher rates of illness and compromised development. As a result, there has been considerable interest in recommending that pregnant women take a combination of vitamins and minerals to improve the weights and outcomes of their babies.
This recommendation had progressed to the planning phase for international roll-out of programmes, but the evidence base for policy change was not thought strong enough.
DFID is working towards the Millennium Development Goal to reduce the mortality rate of under-fives by two-thirds between 1990 and 2015. A project funded by the Central Research Department and led by the University College London Centre for International Health and Development undertook a trial in Nepal in collaboration with Mother and Infant Research Activities with the aim of establishing whether taking multiple micronutrient supplements during pregnancy would increase the weights of newborn babies.
Although preliminary evidence suggested that increasing birth weight would prevent newborn deaths, no evidence of this was found. After the findings were published, the Centre contacted researchers at the Bloomberg School of Public Health, Johns Hopkins University, USA, who had also done work on the subject. A joint analysis of findings conducted in 2006 suggested that the evidence base to support rolling out the supplement on a large scale was not strong enough. The outcome has been the avoidance of expenditure on a global programme whose results might have been less impressive than imagined. The use of good statistics can make a difference to policy making.
Published 9 November 2007