DFID Research: Malaria control in a complex context
Research into malaria control methods has helped to reduce disease spread in conflict areas of Afghanistan and refugee camps in Pakistan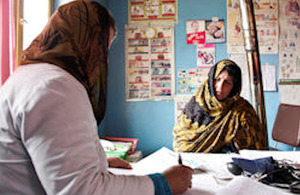 Over the last 15 years, the national malaria control programme in Afghanistan has been developing and applying innovative malaria control strategies for complex emergencies in fragile states.
The project, led by the DFID-funded TARGETS RPC, began when Afghanistan was a barely-known part of the world. Since then, political events have forced it to the forefront of the global political agenda. Despite these dramatic changes and the devastation caused by years of bloody conflict, the malaria-control programme, through a series of operational research projects, has successfully reduced the malaria burden in Afghanistan and among Afghan refugee camps in Pakistan. Research was carried out based on the recognition that healthcare strategies developed for peacetime conditions are not appropriate in conflict-affected countries.
The application of the programme took an iterative approach, through implementation, monitoring and evaluation and then further implementation. Research included examining the use of insecticide treated nets (ITNs), indoor residual spraying and chemophrophylaxis to prevent further spread of the disease. As one of the longest running integrated malaria control programmes for a refugee and chronic emergency setting, it included novel preventative interventions such as a social market campaign on ITNs across Asia.
The research has not only helped those living in the refugee camps in Pakistan and villages in eastern and northern Afghanistan, but it has also been of benefit to service providers and policy-makers who have been able to utilize initial findings in programming and policy development. Young Afghan researchers were also included in the analysis, preparation, MSc training and authorship of the publications in order to build their knowledge capacity.
56 papers have been published from this work along with a WHO manual, and twelve more papers are in preparation for publication. This formal analysis and dissemination through publications will help inform policy and practice in both Afghanistan and Pakistan and also strengthen the evidence base for the development of malaria control policy and practice in other fragile states.
The Ministry of Public Health in Afghanistan, UN High Commissioner for Refugees in Pakistan, HealthNet TPO and the London School of Tropical Hygiene and Medicine, supported by technical assistance from DFID knowledge programme funded staff are looking to continue this research, with the aim of eventually eliminating malaria entirely from this region.
Published 4 March 2011