DFID Research: Essential healthcare for newborn babies in Nepal
Refresher training for health workers is transforming care practices for mothers and babies.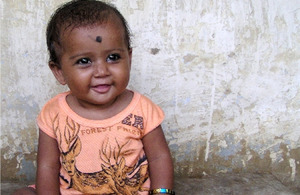 Appropriate training and distribution of low-cost equipment has helped to improve care practices both in the community and in government facilities.
MIRA (Mother and Infant Research Activities), with funding support from DFID, organised health service strengthening activities throughout the quarter of a million people who live in Makwanpur district.
All health service workers were trained in essential newborn care. This involved promotion of simple care practices such as timely wiping and wrapping of the newborn, management of asphyxia using tube and mask or bag and mask, recognition of danger signs, simple messages about use of a clean delivery kit for home deliveries, using clean boiled blades for cord cutting and thread for tying the cord, and keeping the delivery room warm and well ventilated. New techniques of delayed bathing and 'Kangaroo mother care' were particularly successful. Kangaroo mother care for management of low birth weight babies involves skin-to-skin contact between a mother and her newborn, and frequent and exclusive or near-exclusive breastfeeding.
Low-cost and locally-made equipment was provided to health workers. Government health facilities received resuscitaires (infant warmer systems). Warm cots and phototherapy unit were provided to the district hospital and primary health centres, and weighing scales, thermometers, suction bulbs, bag and mask were made available at health posts. Maternal Child Health workers and Female Community Health Volunteers, sometimes known as Trained Traditional Birth Attendants were also provided with materials for newborn care and resuscitation (rubber suction bulb, bag and mask, or tube and mask).
Training had a real impact on the success rate of health workers and birth attendants following increased use of rubber suction bulbs on both normal and asphyxiated babies and tube and mask on asphyxia cases. One traditional birth attendant describes how the learned techniques and simple equipment have transformed her life:
"About 3 months ago a baby was born in 'Ghaderi Danda' a little [way] from our village. The baby had a poor heartbeat and was blue in colour at birth. All the people were crying and saying to wrap baby up with clothes and 'throw it'. The baby did not move even after I cleaned up all secretions by using the rubber suction bulb. I gave air to baby five times using tube and mask, then baby started breathing. People were amazed. In this way, I saved many other babies as well. Thanks to MIRA for making work easy by providing such types of equipment to us birth attendants. Family members become pleased and give me money as well."
Communities now have more faith in government health workers than before, resulting in increases in the number of newborn infants taken to health institutions for treatment and numbers of babies treated for hypothermia and neonatal jaundice in Primary Health Centres.
The refresher training model was subsequently used in several other districts of Nepal and more recently has became an integral part of the National Safer Motherhood programme.
More information
DFID project record: Achieving MDGs 4 and 5: Strategic research to develop the evidence-base for policy for mother and infant care at facility and community level.
DFID project record: Improving Perinatal Care to Reduce Infant and Child Mortality in Poor Communities.
Published 4 February 2009