DFID Research: Ending Striga's reign with IR maize
Herbicide-resistant maize promises effective integrated management of the Striga weed in Sub-Saharan Africa and increasing crop yields.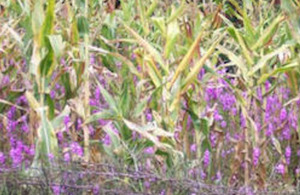 The collaborative development of herbicide-resistant maize promises effective integrated management of the Striga weed in Sub-Saharan Africa, increasing crop yields by up to 4 times and offering millions of farmers a solution to combating this noxious parasitic weed.
Spreading through masses of tiny seeds, Striga infestation can cause yield losses of 20-100% in maize, driving some farmers to give up cultivating the crop entirely. The persistence of the weed presents a serious challenge. However, a major step forward has been achieved by a private-public collaborative Striga control project to facilitate the release and utilisation of imazapyr-resistant (IR) maize technology for Striga control in Sub-Saharan Africa. The new IR technology has 2 components: (i) herbicide resistant maize and (ii) herbicide (imazapyr) coating. As the maize seeds germinate, they take in the herbicide. The germinated maize then produces a chemical which induces germination of the Striga weed, but as the Striga seedlings attach to the roots of the maize to withdraw nutrients, they are killed by the herbicide.
During pilot work in Kenya, Uganda and Tanzania, maize yields have increased from an average yield of 0.5 tonnes/ha to about 2 tonnes, thanks to the IR technology. Four hybrids and 2 open pollinated varieties are being produced as certified seed in Kenya, where about 30 tonnes have been made available to about 15,000 farmers in 2010. One variety has been released in Tanzania, and pre-release trials are underway in Uganda. Meanwhile, more than 60,000 farmers and 40 agrodealers have been trained to use the technology safely and effectively thanks to the combined effort of the partner seed companies, NGOs, farmer organisations and Ministry of Agriculture extension services.
Read the full version of this case study, written by WRENmedia.
DFID Funding
DFID has been a core donor of the African Agricultural Technology Foundation (AATF) since its establishment in 2004. Its funds have been pivotal in supporting both core and project activities, especially the Striga project, which is AATF's flagship project.
Key Reference:
AATF (2006) Empowering African farmers to eradicate Striga from maize croplands. Nairobi: African Agricultural Technology Foundation, 17 pp.
Published 18 March 2011