DFID Research: AIDS emergency in Swaziland hits like a tidal wave
Swaziland is experiencing an HIV/AIDS emergency on the scale of a tsunami or earthquake.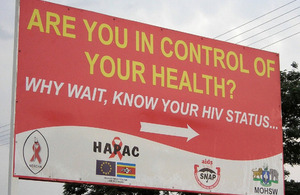 The AIDS pandemic is a global catastrophe. Worldwide 2.8 million people died from AIDS in 2005, the equivalent of 7,671 people per day. 38.6 million people are living with HIV and 15.2 million children have already been orphaned due to the disease. These figures are devastating, and are now so big that in some countries they begin to lose their meaning.
How does a society cope with the thousands of children who are left behind when their parents die?
These questions are particularly acute in Southern Africa which is on the forefront of the battle against HIV/AIDS. In Swaziland the situation has deteriorated significantly despite admirable responses to the crisis from its government and people.
HIV prevention programmes have not had big impacts so far and the full social and economic implications of the epidemic are only now becoming apparent. 19% of Swazi's are HIV-positive, death rates from AIDS are rising, tuberculosis prevalence rises as well, and Swaziland's people are crying out for help.
New research using humanitarian indices of the type employed by the United Nations and relief organizations such as Medecins Sans Frontiers (MSF) show that the Swazi population is experiencing a huge humanitarian emergency; one comparable to countries besieged by conflict or struggling in the wake of severe natural disasters such as tsunamis and earthquakes.
A new paper fromSwaziland's National Emergency Response Council on HIV/AIDS (NERCHA) and the Health Economics and HIV/AIDS Research Division in South Africa (HEARD) describes the deteriorating conditions in Swaziland and documents the insufficient responses from both within the country and internationally. Reviewing Emergencies in Swaziland shows how Swazi households have been forced to use drastic coping strategies to survive. Many now reduce meal sizes and sell their assets for food, as over 40% of households are host to one or more orphans. Bad weather exacerbated by climate change has, along with HIV/AIDS, led to a fall in agricultural production. Around 40% of Swazi's require food aid.
Perversely, the country is handicapped because the economic success of the 1980s and early 1990. This success means the country is categorised by donors as a middle income country and so can not access the support that low income countries receive from the international community.
The new study highlights how current economic categorization by international lending organizations such as the World Bank limit the scope of aid available to "low-middle income" countries such as Swaziland. These economic indicators misleadingly suggest that the majority of Swaziland's citizens are relatively well-off. Most shockingly, Swaziland's increasing mortality rates have led to a decline in population and actually increased the Gross National Income per capita, suggesting to the international community that the country's economy is growing. This makes it more difficult for the Government of Swaziland to access the foreign assistance the country so desperately needs.
The new study should lead to a re-examination of humanitarian involvement in Southern Africa by the donor community, highlighting better ways to monitor the deteriorating plight of populations in the region, and by recommending a comprehensive response to the emergency.
More information
See Project record on R4D for Addressing the Balance of Burden in HIV/AIDS (ABBA)
Published 7 July 2008