Case study
DESG Graduate Scheme: Emily
Case study of a student on the MOD Defence Engineering and Science Group (DESG) Graduate Scheme, now working at the Fast Jet Test and Evaluation Centre.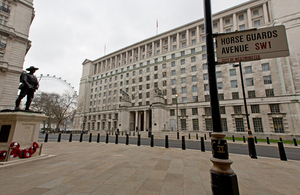 Emily graduated from university with a degree in mathematics, where she was sponsored throughout her degree by the MOD through the Defence Technical Undergraduate Scheme (DTUS), having come from Welbeck Defence Sixth Form College (DSFC). She is currently working as a Systems Analyst with 41 (R) Sqn at RAF Coningsby where she is part of the Fast Jet Test and Evaluation Centre.
My engineering system anchor is Operational Analysis and this role enables me to apply my mathematics knowledge and skills to a real world problem. I work within the Operational Analysis Team providing support to the Harrier and Tornado trials.
My background on the scheme has been quite different to the "normal" DESG process, in that I was not a direct entrant to the graduate scheme, as I joined the scheme originally as a student at Welbeck DSFC. When I applied to the scheme I was only 15 and so initially my biggest attraction was attending the college and experiencing everything it had to offer there.
In the back of my mind I understood how beneficial the overall outcome would be and as I progressed through the scheme I gained a greater understanding of what the DESG scheme involves and I was very happy with my choice. Once I graduated from Welbeck DSFC I then moved onto being sponsored by the DESG through University on the DTUS (Defence Technical Undergraduate Scheme). This has been one of the biggest highlights in my 6 years on the scheme so far. I went to Northumbria University in Newcastle and was part of a Trojan Squadron.
Part of the sponsorship scheme means you are given a bursary each year. This was a huge help to me and allowed me more time to focus on my university work and my DTUS activities.
In the 3 years I was a member of DTUS I was able to experience multiple adventurous training opportunities and even be paid to do them! I love outdoor pursuits and to me this was an invaluable opportunity. I was already a keen kayaker, but with the help of DTUS I was able to gain an instructor qualification. This then enabled me to organise my own adventurous training expedition where I took fourteen officer cadets to Scotland to complete to Caledonian Canal. I also spent two weeks gliding with the RAF where I was bought up to solo standard. I went on multiple sailing expeditions and courses and by the end of my time on DTUS I achieved my Day Skipper qualification. I was given the opportunity to take part in a sailing expedition to the Channel Islands which was really good fun but also provided some challenging sailing.
Most weekends we were able to go hill walking and climbing in the Lake District, camping out and gaining quality mountain days. As well as all the adventurous training there were plenty of opportunities to experience military life. There were a number of military leadership type exercises throughout the three years, which involved living in the field, carrying out basic military activities and leadership development tasks.
Short term I am hoping to develop my modeling and analysis skills further and I am applying for a placement in Australia. I also hope to deploy to the front line on a support to operations deployment. I will also complete a Masters degree at Cranfield University next year, after which I hope to re-grade into a permanent position with the Operational Analysis area. I am also working towards becoming a Chartered Mathematician and I am very excited about the opportunities that lay ahead of me.
A career in the MOD is like no other. It goes without saying that you get out what you put in. All of my opportunities have come through hard work and the support of my DTUS Officers and DESG Mentor. The training and development opportunities are hard to beat. The MOD operates a good working environment with a decent pay system and pension scheme. The advantage of the DESG scheme is that you get to move around the country and experience different places and new roles. Each role is different and provides its own benefits. You will never get bored with a career in the MOD as long as you are willing to embrace the opportunities available to you.
Published 11 February 2013