Case study
Debrina and Lavve – I'm so happy. I've got my son back
How a mentor from Chance UK, an early intervention charity, helped a mother and her son deal with his disruptive behaviour.
This case study was withdrawn on
We have archived older case studies about social justice and published more up to date case studies.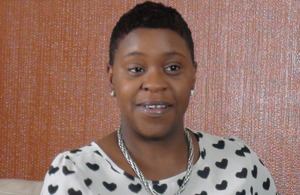 Debrina struggled to cope with her son's disruptive behaviour until the school suggested Chance UK might help – an early intervention charity that works with children aged 5 to11 with behavioural difficulties.
Watch the video to hear Debrina talk about her experience. The video also features James from Chance UK.
Debrina's story
Lavve was seven years old when his dad was diagnosed with cancer. He died just one month later in October 2008, leaving Lavve's pregnant mother, Debrina, struggling to cope with her son alone.
Both Debrina and Lavve's teacher noticed a dramatic change in him. He wasn't interested in his schoolwork, his bad behaviour grew to disruptive levels and he stopped playing with toys and other children.
Building self-esteem
The school suggested that Lavve might benefit from having a mentor through Chance UK, an early intervention charity that prevents crime and anti-social behaviour by working with children aged 5 to11 with behavioural difficulties. Chance UK mentors work to build a child's self-esteem so that their confidence, education and family life all change for the better.
"When we lost Lavve's dad, I also lost my son," said Debrina. "Things were really bad. He was withdrawing, he wasn't interested in playing and I would find him in his room crying. It was affecting his schoolwork and behaviour there too. I was three months pregnant, I was so scared and I was very depressed. It worried me that my feelings were affecting Lavve as well."
In January 2009, Debrina spoke to Chance UK's team in Hackney, who worked with her and Lavve to draw up a wish list for the ideal mentor. Lavve wanted someone who liked football and art.
Talk about feelings
Debrina wanted someone who would be able to get Lavve to talk about his feelings, which he refused to do with her. Debrina also wanted a mentor who would be able to take Lavve out to have fun for the day, which she was unable to do with a new baby on the way.
In November 2009, Lavve was paired with his mentor Janan. He would take Lavve for a day out swimming or to museums one weekend, and spend time with him to talk about feelings and do homework the next.
"It took a while to find Lavve's mentor," said Debrina. "But I'm glad it did because he has the best mentor in the world. They went on some brilliant days out which meant so much because I wasn't able to do that with the new baby. Janan was fantastic because he got Lavve to open up about his feelings too."
I've got my son back
Lavve said: "I was scared at the beginning but now because Janan is my friend I feel a lot safer and happier. Janan has taken me to go swimming, we did rowing in the park and we went to the Emirates Stadium to see where my team, Arsenal, plays. School is really good, my favourite things are maths and art. The thing I've improved on most is my behaviour."
Lavve graduated from Chance UK in a celebratory ceremony in December 2011. It was an opportunity for everyone to reflect on the progress Lavve has made and the skills he has developed to help him overcome challenges in life.
Debrina adds: "I can't imagine what would have happened to Lavve without Chance UK – I thought I was losing him. Because of Chance UK and Janan, Lavve is happy and always smiling, and I'm in a better place. I've got my son back."
Video transcript
Debrina
When his dad passed away I was three months pregnant so I had the majority of my pregnancy left and I was not in a good state at all – in and out of the hospital, Lavve having to be taken care by my family. It was affecting him, seeing me like that you know, it was very, very hard. And he started to change himself, playing up at school, just not being himself, not wanting to do anything and it wasn't good because that's not what Lavve was like. He was a happy-go-lucky child, happy to do everything and he was withdrawing and it scared me.
So I was approached by the school and they offered us Chance UK. Said they were a mentoring community who helped children that were troubled or going the wrong way. And it was perfect and I don't know what I'd have done without them, I really don't, it's been brilliant.
And Lavve's much better for it now, yes.
James
Yes, so Chance UK, we're an early intervention that works with 5 to 11 year old children in London and across the UK
We recruit volunteer mentors; they're over 18 years of age. They are people who we've trained and interviewed and what we are after are people who are able to get down to somebody's level, a child's level. Have the resilience themselves to have dealt with a situation in their lives and overcome those situations positively. And somebody who we feel could have the possibility of giving somebody, a child, a time, a problem free time, where they can be by themselves, have fun, but also give them aspirations.
Debrina
Yes, they teamed him up with his mentor by the name of Jannan. Absolutely perfect, perfect, perfect choice. They're like my two kids to be honest, they're brilliant together and he loves him to bits. He classes him as his friend. They do their activities, they're just good together.
Lavve
Here's my picture of my mentoring, where I've been. We've done a lot of swimming. This is when we went on the Arsenal tour. When it was snowing we built a snowman. We went to the Arsenal stadium there. We experienced music history, me playing the drums. We went to lots of museums. Again that's the Arsenal tour. I taught Jannan how to hula-hoop. We played a lot of tennis. That's me and my first time rowing.
James
Well I just think the power of programmes like these are to really encourage building self esteem, encouraging children to try new activities, to go to places they haven't been to before. To really, basically, explore their own abilities and develop their own abilities in a safe environment. And to have fun and I think ultimately what we're after is for children to be able to then go into situations they once found difficult and be able to cope in a really positive way.
Lavve
Yea, I mean like the community has helped me a lot. As my mum says I was a bit down and my mentor and James have been helping me a lot.
Debrina
Lavve's spirits have lifted. I have my boy back. He was himself again. And that was what I was scared of, I was scared of losing my boy but I've got him back. To look forward now I've got double trouble anyway but yes it brought my boy back and I'm so happy that we found Chance to be honest, yes, absolutely and I'm sure Lavve feels the same. He's had good opportunities, more than other children, yes.
End slide
Chance UK is an early intervention charity that aims to prevent crime and anti-social behaviour by providing mentors to children aged 5 to 11 years with behavioural difficulties.
"I have my boy back. I'm so happy".
Published 16 April 2013