Case study
Dearman: Technology firm drives a cold and power revolution
Business supported by Innovate UK is testing a new zero emission transport refrigeration unit that could bring thousands of jobs to the UK.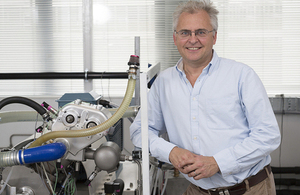 Dearman is developing a range of technologies that use a novel piston engine powered by liquid air or liquid nitrogen to deliver zero-emission cold and power. The technology could bring major economic benefits to the UK and to nations across the developing world.
Dearman: technology firm drives a cold and power revolution
Dearman was set up three years ago to develop technologies to harness the engine invented by Peter Dearman. Its first major application is for transport refrigeration units.
It is also being developed for use in back-up power systems for buildings and for more fuel efficient vehicle engines.
Dearman technology is being tested in the Innovate UK and Office for Low Emission Vehicles (OLEV) co-funded Cool E transport refrigeration project by a consortium of Dearman; the world-leading engineering, research and product-testing organisation HORIBA MIRA; Air Products; and Loughborough University.
The company expects the Dearman transport refrigeration system to be in use in 100 vehicles on the road in 2017 and to be in full manufacture by 2018.
It could help to bring thousands of jobs to the UK and provide significant economic and environmental benefits.
It is estimated that if all of London's truck refrigeration was zero emission, the reduction in particulate emissions would be the same as taking more than 300,000 new diesel cars off the road.
Taking cold technologies to developing world
Dearman is particularly targeting markets such as India where clean and efficient cooling technology could be worth billions of pounds and could help to address challenges in food production and delivery, without causing unintended environmental harm.
Professor Toby Peters, chief executive and one of three founders of Dearman, said:
Our lifestyles are built on cold, our food, our medicine, our comfort, our data. In developing and emerging markets we are going to have about 3 billion new middle classes over the next 10-15 years.
Their lifestyles will also be built on cold. That's the biggest market opportunity for Dearman today. You are seeing 25% increase year on year in the demand for transport refrigeration.
Up to 40% of food in India and Asia is lost post-harvest before it gets to market because there is no cold chain. About 200 million tonnes of food could be saved each year if India and Asia had the same cold chain as the UK.
Cold economy could support 25,000 jobs
Dearman was founded by Toby, deputy chief executive Michael Ayres and chief financial officer Jeremy North in 2011 and has grown quickly to employ 51 people. It has recently moved into a new home in Croydon.
Michael added:
We will probably expand the company to 75 or a 100 employees with a primary focus on research and development. Then we have partnerships with other UK businesses. It's quite likely we will create manufacturing jobs at Hubbard but also with partners such as The Proving Factory.
The Carbon Trust says Dearman and its partners are part of a growing hub of clean cold expertise and research that are giving Britain a lead in a global market that could soon be worth billions of pounds.
It believes the clean cold economy could support 10,000 UK jobs by 2025 and more than 25,000 by 2050.
Toby added:
We are trying to promote not just a new technology but a new application 'clean cold'. We are trying to move quickly through to market.
This has been made possible by the support of Innovate UK. It hasn't just given us direct funding. What It does is it gives third parties confidence to engage with you and, in particular, it gives confidence to investors we are bringing in to support the company.
We have had more than £10.5 million of private equity investment and I think that's been catalysed by the support we've had from Innovate UK.
See other businesses that have gone on to be successful after receiving Innovate UK support
Published 14 September 2015