Case study
Dealing with disability hate crime in North Yorkshire
How North Yorkshire Council is helping people with a learning disability get out and about without fear of intimidation.
This case study was withdrawn on
The Accessible Britain Challenge ended in March 2015. The Disability Confident scheme provides support and guidance on recruiting and retaining employees with disabilities and long-term health conditions.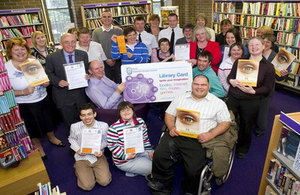 People with a learning disability often find it difficult to get out and about on their own without feeling intimidated, or knowing where to go to get help. They choose to stay at home or only go out at certain times, limiting their use of community facilities, due to being afraid.
North Yorkshire County Council and the Community Safety Task Group (a group of individuals with a learning disability) have been working to improve this situation.
Safe places
The group sought feedback from people with a learning disability who had experienced hate crime, bullying or intimidation. It became clear that they needed somewhere to go when feeling vulnerable or in need of support when they were out in the community.
The group set up a pilot scheme to use local libraries as a safe place. The libraries were chosen as many are open 7 days a week and often in the evening. This makes them available to people who are out in the evening and at weekends. This pilot began in the districts of Hambleton and Richmondshire. Following its success, the scheme has been further developed to cover the whole of North Yorkshire.
Library staff received disability awareness training from people with a disability and members of the Community Safety Task Group. The training raised awareness of what was expected of them and what they needed to do if someone comes in to ask for help if they felt vulnerable.
Keep Safe Card
The group also learnt that people were sometimes too distressed to be able to say what had happened to them or ask for help. In response to this need, they developed the Keep Safe Card.
This card is the size of a credit card and can be kept in a wallet or purse. It has simple pictures on it for people to be able to show someone what has happened. It holds information such as who to contact in an emergency and any conditions someone may have that are relevant.
Improving transport accessibility
To enable full access to the community the group realised they need to look at how to improve safe travel for all vulnerable people in North Yorkshire. They worked with the Integrated Passenger Transport, local bus companies, social care staff and vulnerable people to devise the Liberty Wallet.
The Liberty Wallet is a high visibility, plastic wallet which can carry a travel pass, money and any instructions or information someone may need to share to enable independent travel.
The group produced a training DVD for bus companies to raise awareness of the wallet and the extra needs that some people have.
North Yorkshire Council are now working with local police, transport police, voluntary agencies and third sector agencies to make communities safer and more accessible for vulnerable adults.
Published 5 January 2015